Wilhelmina "Billie"
Cole Holladay

Wilhelmina "Billie" Cole Holladay was a visionary leader and a passionate advocate for women's art.
She founded the National Museum of Women in the Arts (NMWA), the first and only museum solely dedicated to championing women through the arts.
A personal interest quickly developed into a social and educational cause for Wilhelmina. During a tour of Vienna she was amazed and dismayed to learn that the talented woman artist was not listed in major art references, nor were many other deserving women artists.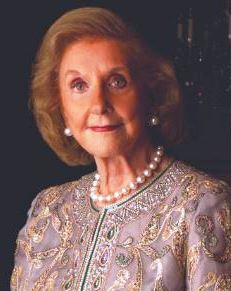 Six years after the museum opened its doors in Washington, D.C., it boasted an organization of national and international chapters and a membership of more than 125,000, which makes it the third largest museum in the world in terms of membership.
To fulfill its mission, the museum cares for and displays a permanent collection, presents special exhibitions, and conducts educational programs. A state-of-the-art, 200 seat auditorium serves as a center for the performing arts and other creative disciplines in which women excel.
NMWA also maintains a Library and Research Center containing substantial specialized holdings for research. The Center has developed numerous publications, including a quarterly newsletter, exhibition catalogues, books, brochures, and curriculum materials. She said, "When substantial accomplishments and excellence are known, the right to be taken seriously surely will follow. Women should know their heritage which has been so long ignored."
In addition to serving as the museum's chair of the board, she was active in many other ventures, serving on the boards of the National Women's Economic Alliance, the Adams National Bank, the Corcoran Gallery of Art, the World Service Council of the YWCA, the American Academy in Rome, the United States Capitol Historical Society, the National Gallery of Art's Collector's Committee and the International Women's Forum.
In recognition of her service, "Billie" received the National Medal of Arts in 2006 from President George W. Bush.
That same year she was awarded the Légion d'honneur by the French Government. A diplomatic order was also bestowed from Norway.
She was regularly listed as one of the most powerful women in Washington, D.C, and received a lifetime achievement award from the District of Columbia.
Among Wilhemina's other awards for her service to women include induction into the National Women's Hall of Fame, a lifetime achievement award from the Women's Caucus for Art, the Women Who Make a Difference Award from the International Women's Forum and the Distinguished Achievement Award from the National League of American Pen Women. She received honorary doctorate degrees from four colleges.
She was a generous donor, a tireless fundraiser, a savvy curator and a charismatic ambassador for women's art.
She passed away in the midst of Covid-19 Restrictions on March 6, 2021, at the age of 98, leaving behind a legacy of inspiration and empowerment for generations of women artists and art lovers.

Compiled & Contributed by Fan Carolyn Shannon

Thank YOU to Our WOW Gal Angel Sponsor whose mission is connect people to their Guardian Angels in visible, colourful, reflections that are alive