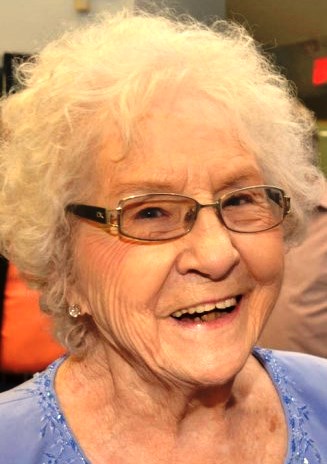 At age 93, Wilma, who lit up a room just by being in it was cherished by all who knew her.
She was consistently described as a kind, compassionate and caring woman, she raised five busy active children in St. Catharines while demonstrating her commitment to her community as a dedicated volunteer with numerous organizations over the years.
Through Wilma's actions, she taught her children to love unconditionally, the importance of continuing to read, learn and to be adaptable and flexible in facing life's challenges. Most importantly, she continually reinforced and modelled the Golden Rule of "Doing unto others as you would have them do unto you".
She was a proud and loving Nana delighted by her ten biological and inherited grandchildren and four great-grandchildren.
Find out so much more about this AMAZING Woman by reading this Beautiful Tribute shared by her Daughter Brenda Herchmer
Here are just a few of the heartfelt tributes from more of Wilma's admirers:

I knew Wilma for many years! She and I were connected through a spiritual group with Cliff and Linda Preston. Before that I knew her son Randy who was a good friend of my brother Paul, and I also knew Brenda. Wilma was a joy to know, and I always loved her smile and her enthusiasm! In my mind she had a way of walking into any room and her bright smile and loving energy would be felt by all! I moved from the Niagara area about 20 years ago and now I am back but unfortunately did not get to reconnect with Wilma! My heart goes out to her family, and I send them all condolences, love and healing. Sincerely Lee Harvey, Niagara Falls ON
I met her in 1997 when she came to my very first workshop in my home. Sitting in a little chair and using a TV table to draw on, she enthusiastically gave it her all in both colouring and appreciating other participants' "heartworks". She became a treasured part of my life after that and even married one of the men I taught without hesitation, trusting she was being led to have love in her life again. When he passed away long before her… family got even more love if that is possible.
We lost contact over the years, but she has never left my heart. I can still see her sparkling eyes and beautiful smile and trust that she will be an angel in training very soon. The world will really benefit from her assistance from the other side. It sure did while she was alive!!! An AMAZING & Beautiful Woman
Focusing Forward…with Flexibility, Carolyn Shannon, Niagara Falls ON
She was an inspiration for me. Loved her gentle smile and her name Wilma. (My Mom's name) She always had time to chat especially about her Angels.
She will always be in my thoughts. Angel Hugs Wilma! Gloria Messenger, Virgil ON
I will remember Wilma as a very gentle Soul and a special Friend! Always there to give a helping Hand to the ones in need!
Wilma lived by the Golden Rules. Will miss Her Smile and sparkle in Her Eyes!
RIP my dear Friend!
Till we meet again!
Love Irene (Rena), St. Catharines ON
Ron and I met Wilma at Cliff and Linda Preston's meditation group in the early 1990's.
We noticed Wilma's open-minded, happy, and gentle presence. Wilma had a warm, beautiful smile, and a twinkle in her eyes. She always offered encouraging, wise words, for many of us in the group were seeking answers to some tough questions. She overcame many difficulties in her own life with grace, and positivity.
She was a blessing, and inspiration to all who knew her.
Thank you for these memories,
Arden Kozak and Ron Honey, Fort Erie, ON
Wilma Berswick gently came into my life in 1994. I met her though a small informal group of spiritually oriented people in Niagara. That group eventually grew to be the driving spiritual and holistic force in the region and helped to make Niagara the #1 place in North America for alternative health.
I have not seen Wilma in many years but still think of her fondly. At that time, she worked in hospice—the perfect niche for someone so gentle and kind. Wilma had a way of making everyone feel a sense of belonging and comfort. Her uplifting attitude adds a little ray of sunshine wherever she goes! No wonder she is so well loved! Lori D'Ascenzo, Port Rowan, ON
Compiled & Contributed by Fans Carolyn Shannon, Lee Harvey, Family & Admirers
Thank YOU to Our WOW Gal Angel Sponsor whose mission is connect people to their Guardian Angels in visible, colourful, reflections that are alive