While some in her era would say that Victoria was no "angel" she was one of the first to dare to run for President in America.
A free thinker she and her sister created a radical publication in 1870 which gave the sisters a place to express their ideas on social reforms, including women's suffrage, birth control and free love. (Although she did marry… 3 times). She and her sister also became involved in the spiritualist movement of the 1800s. Woodhull became a popular medium, traveling around with her sister to entertain audiences.
A strong supporter of women's rights, Victoria often spoke publicly on behalf of women's suffrage, and even addressed Congress on the issue. She was the first woman to own a brokerage firm on Wall Street, the first woman to start a weekly newspaper, and an activist for women's rights and labor reform.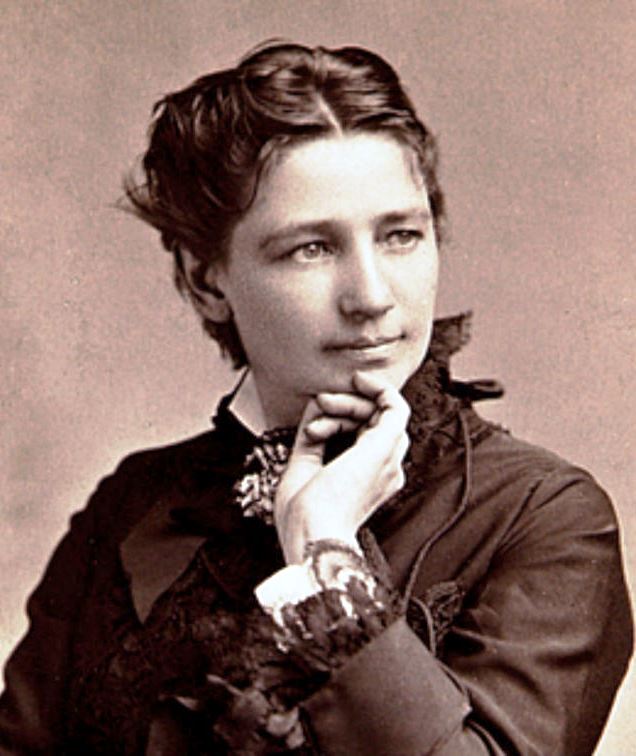 At her peak of political activity in the early 1870s, Victoria is best known as the first woman candidate for the United States presidency, which she ran for in 1872 for the Equal Rights Party, supporting women's suffrage and equal rights. (Eventually some of the Suffragettes found her a little to liberal for their cause.)
Victoria thus became the first woman to appear on a presidential ballot. However, due to the fact that her name was removed from many ballots because the Equal Rights Party Candidate was actually in jail on Election Day (on charges of libel that were later dismissed), it is unknown how many popular votes America's first female presidential candidate actually received.
While many historians and authors agree that Woodhull was the first woman to run for President of the United States, some have disagreed with classifying her as a true candidate for the following reasons:
1. She was younger than the constitutionally mandated age of 35. Today this is the most cited criticism by political analysts, but election coverage by newspapers does not suggest it was a significant issue in the 19th century.
2. She did not receive any electoral votes or popular votes. Official election returns show about 2,000 "scattering votes." It is unknown whether any of those votes were cast for her, but supporters contend that her popular votes were not counted because of gender discrimination.
3. She was a woman. Some of Victoria's contemporaries believed that as a woman, she was not a full citizen, as she was not entitled to vote. Since the Constitution required that the President be a citizen, she was excluded from holding the office.
After starting a new life in England. Victoria made her first public appearance as a lecturer at St. James Hall in London on December 4, 1877. Her lecture was called "The Human Body, the Temple of God," a lecture which she had previously presented in the United States.
Victoria Claflin Woodhull Martin died at age 88 on June 9, 1927, in Worcestershire, England. She stands as an example of a woman who chose to speak out for what she believed in.
Victoria was a popular and controversial figure in her day. In many ways she was ahead of her time and was an important trailblazer for women in generations to follow. She advocated for equal education for women, women's right to vote and women's right to control their own health decisions. Above all, she criticized the Victorian ideal of women's place being first and foremost in the home.
Compiled & Contributed by Fan Carolyn Shannon

Sources: https://www.civilwarwomenblog.com/victoria-woodhull/
https://ehistory.osu.edu/biographies/victoria-woodhull
https://allthatsinteresting.com/victoria-woodhull
https://www.biography.com/people/victoria-woodhull-9536447