Nameless WOW Gal Angel - Gone at 13
We met so briefly and long ago that I can no longer remember her name yet I feel her around me whenever I feel afraid about beginning a new phase in my life.
The best years of my school life were in a 2 room school where we had a teacher who thought outside the box when it came to understanding how isolating a country schoolhouse could be. During my grade 7 & 8 we followed the curriculum to a "t" then square-dance every Friday afternoon and played ping pong at lunch time. Unheard of in a school during the 60's. We even earned credits we could use to buy treats or extra turns and so much more.
Needless to say I was not looking forward to leaving this sanctuary to go to the big formal high school in the next town.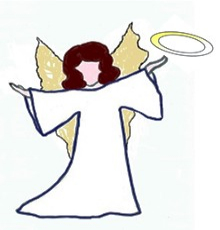 These friends were the best I had ever had and now we would be separated and thrown into rooms full of strangers. After moving close to yearly with the forces I just wanted to stay put now that I felt at home.
The day came for us to go to the high school's open house. Even then we didn't go as a class…we were picked up from home and went on a route that picked up all in a certain area going to this event.
The bus stopped after driving what seemed like the wrong direction and a girl around my age got on. She chose the seat across from me. Unlike myself she seem excited about going on an adventure. She sat up straight and swung her legs back and forth in joyful anticipation. I couldn't take my eyes off her. Much like in "When Harry Met Sally" when Sally faked the orgasm, I felt envious and wanted whatever it was she had to make her feel this way.
It wasn't long before she noticed me watching and we began chatting as if we were old friends. I found out she had moved into the area with her family a short time ago and that her home was not that far from where I often went to the rural store. I became more and more excited about this chance meeting.
We arrived at the high school and stayed close during the tour then found out that we had chosen the same courses and were in the same home room. The day just kept getting better and better.
We chatted all the way home and when she got dropped off first she said her family was going away for the summer so we would have to wait until the first bus trip to school to catch up. Then she was gone.
It wasn't until after she was gone that I realized neither of us had exchanged phone numbers just names. I wrote hers in my book and instead of spending the summer dreading this major life change, looked forward to it with eager anticipation.
A week before school was to start there was a write-up about a car that had been hit by a train close to where she had been dropped off. The father was the only survivor and was hanging on by a thread at that. The mother, daughter and son died instantly. Before I even read the names I knew in my heart it was my new friend. Reading further confirmed this.
At first I was extremely angry at God for "doing this to me". For "giving me hope then snatching it away as quickly as it had come". I cried, ranted and raged for a couple of days at what seemed like a huge injustice to me. This was the fourth friend taken from me by death in my 13 years and two had been killed by trains!
Sitting out on the step waiting for the bus I felt a hand on my shoulder that gave me peace. I then got a vision of her smiling face and found myself smiling back. Whether she did or not I felt her presence for the whole day as I entered this whole new world.
With her guidance I suddenly became the one who scouted out others who seemed afraid of this new experience and quickly smiled and said hello. Life was too short to go through it alone and afraid. She had taught me that.
I may never remember her name again. I will never forget her face or how she was an angel to me.
Contributed by Carolyn Shannon (An Excerpt from her soon to be published book, From RAGE to RICHness)