Born Chloe Ardelia Wofford she was known as Toni Morrison, an American novelist, essayist, book editor, and college professor.
She was nearly 40 when her first novel, The Bluest Eye, was published. By her early 60s, after just six novels, she had become the first black woman to receive the Nobel literature prize, praised in 1993 by the Swedish academy for her "visionary force" and for her delving into "language itself, a language she wants to liberate" from categories of black and white. In 2019 she was featured in an acclaimed documentary, Toni Morrison: The Pieces I Am.
She was the first black woman to receive the Nobel literature prize, which she was awarded in 1993. The Swedish academy hailed her use of language and her "visionary force."
Her novel Beloved, in which a mother makes a tragic choice to murder her baby to save the girl from slavery, won the Pulitzer Prize for fiction in 1988.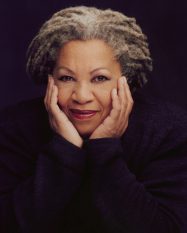 The second of four children of a welder and a domestic worker, in Lorain, Ohio, a steel town outside of Cleveland.
Her father grew up in Cartersville, Georgia. At the age of 15, he witnessed white people lynching two Black businessmen who lived on his street.
Soon after the lynching, her father moved to Lorain, Ohio, a racially integrated town, in hopes of escaping racism and gain better employment in Ohio's industrial economy rather than sharecropping.
Speaking of her father's experience with the lynching, She said "He never told us that he'd seen bodies. But he had seen them. And that was too traumatic, I think, for him."
She was encouraged by her parents to read and to think, and was unimpressed by the white kids in her community. Recalling how she felt like an "aristocrat," she believed she was smarter and took it for granted she was wiser.
She was an honours student in high school, and attended Howard University because she dreamed of life spent among black intellectuals.
At Howard, she spent much of her free time in the theatre (she had a laugh that could easily reach the back row) and met and married a Jamaican architect, Harold Morrison, whom she divorced in 1964. They had two children, Harold and Slade.
In her novels, history — black history —was a trove of poetry, tragedy, love, adventure and good old gossip, whether in small-town Ohio in "Sula" or big-city Harlem in "Jazz." She regarded race as a social construct and through language founded the better world her characters suffered to attain. She wove everything from African literature and slave folklore to the Bible and Gabriel Garcia Marquez into the most diverse, yet harmonious, of literary communities.
Toni helped raise American multiculturalism to the world stage and helped uncensor her country's past, unearthing the lives of the unknown and the unwanted, those she would call "the unfree at the heart of the democratic experiment."

"Narrative has never been merely entertainment for me," she said in her Nobel lecture. "It is, I believe, one of the principal ways in which we absorb knowledge."
Her admirers were countless from fellow authors, college students and working people to President Barack Obama, who awarded her a Presidential Medal of Freedom; to Oprah Winfrey, who idolized Toni Morrison and helped greatly expand her readership.
She shared those high opinions, repeatedly labeling one of her novels, Love, as "perfect" and rejecting the idea that artistic achievement called for quiet acceptance.

Compiled & Contributed by Fan Carolyn Shannon
Thank YOU to Our WOW Gal Angel Sponsor whose mission is connect people to their Guardian Angels in visible, colourful, reflections that are alive