Army Spc. Simone A. Robinson

I NEVER MET SGT. SIMONE ROBINSON. NEVER TALKED TO HER. NEVER INTERVIEWED HER. YET, LIKE ALL MILITARY MEMBERS WHO HAVE DIED WHILE SERVING OUR COUNTRY, I BELIEVE IT'S IMPORTANT TO SHARE HER STORY.
AND IT'S NOT REALLY "A STORY." IT'S NOT LIKE I WRITE THIS TODAY - AND FORGET TOMORROW. IN FACT, EACH LIFE IS IMPORTANT. AND EACH PERSON MUST BE REMEMBERED.
SO, THANKS TO THE ILLINOIS NATIONAL GUARD, THIS IS WHAT WE KNOW ABOUT SGT. ROBINSON.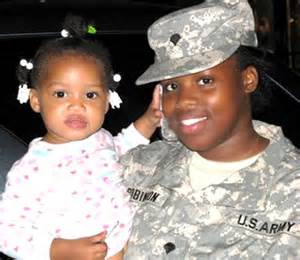 SGT. ROBINSON, A 21-YEAR-OLD MEMBER OF THE ILLINOIS NATIONAL GUARD, WAS INJURED BY AN EXPLOSIVE DEVICE IN AFGHANISTAN ON JANUARY 17TH. SHE DIED FROM HER INJURIES ON SUNDAY, MARCH 1ST, AT BROOKE ARMY MEDICAL CENTER IN SAN ANTONIO, TEXAS.
A GRADUATE OF THORNTON HIGH SCHOOL IN HARVEY, IS SURVIVED BY HER RELATIVES - ESPECIALLY HER 2-YEAR-0LD DAUGHTER, NYZIA. ROBINSON'S FUNERAL IS SCHEDULED IN ROBBINS, ILLINOIS, ON SATURDAY, MARCH 7TH. IT STARTS AT 10 A.M. AND WILL BE HELD AT THE GREAT HOPE MISSIONARY BAPTIST CHURCH, 13615 S. LAWNDALE.
Tributes to Simone as a Woman:
"Nothing compares to what our family is experiencing at this time, with the loss of Simone. She was devoted to her friends, her family, her country and most importantly to her daughter, Nyzia. She wanted nothing more than to be a good role model for Nyzia and was dedicated to working hard to provide for her. Simone had a smile that could easily light up a room and an angelic voice heard by so many. Simone sang her way through life, getting her through so much. She is truly our hero and will always be in our hearts. We thank you for your support at this difficult time and ask media to respect our wishes not to be interviewed." Her Family in News Release Soon After Her Death
Simone was my sister and she was the best sister in the world. She was more like a best friend, always there for me when I needed her. She was a very great person who fought in the national guards army and was proud of what she did. Her and her combat buddies fought for our freedom but most importantly she fought for her little angel nyzia (Simone's daughter). Simone is now gone with her lord and she is proud of where she is now. She is now fighting in the army of her lord r.i.p sgt simone asia robinson Sister Jashara
SGT SIMONE ROBINSON, WAS MY BEST FRIEND, WHAT I CAN SAY ABOUT HER IS THAT SHE LOVED THE ARMY AND WORKING OUT HERE IN AFHANISTAN SHE WAS VERY GIVING TO THE LOCAL CHILDREN OUT HERE AND ALSO TO HER FELLOW SOLDIERS .. I MET IN 2007 WHEN I FIRST CAME TO G.CO 634TH AND WE GOT COOL BY STEALING COOKIES FROM THE DFAC IN CHOW LOL... BUT I WILL NEVER FORGET HER SMILE AND HER LOVE FOR LIFE ALSO HER DAUGHTER NYZIA ALSO CALLED STINKA STANK IN WHICH SHE CALL HER AND MADE US SAY GOOD NIGHT TO HER EVERY NIGHT BEFORE WE WENT TO BED ... I LOVE YOU SIMONE AND WILL MISS YOU... YOUR BIG STISTA WHITNEY.....SPC WHITNEY HEARON

Simone was my niece and my best friend. I'm only 2 years older than her but we were really close. While on tour in Kabul I didn't speak with her much on myspace because I did not have the internet but I did talk to her by phone. It is still hard to this very day, but with God's will me and the family are making it. I miss her smile, her laugh, her jokes, I'm just missing her. Nyzia is my window to her, she is starting to look more like Simone everytime I see her. We all pitch in to help Regina(my sister Simone's mother) whenever posible. I can't wait to see her again, I love you Simone.Tiera Watson
I met Simone Robinson in Bagram on 17JAN09. I accompanied her through trauma ER, and the ICU. I had a moment to hold her hand and talk to her. She lives with me to this day. CJ
I met Simone at the Gospel service I ministered at in Afghanistan. Almost from the start her smile was engaging. She love the church and the Lord. Her second week in service she was singing God's praises. On the day of the attack her mind was on Jesus. They told me she was singing.."This joy I have the world did give it and the world cant take it away that is a testament as to her faith in God. Major(Reverend) Harold Branch
This Is My Cousin.I Personally Love Her And I Sincerely Miss Her.She Always Kept A Smile On Her Face And Everytime I Saw Her It Put One On My Face Also.If My Family See's This I Just Want Them To Know That Everything Will Be Okay And I'm Sure She Is Watching Over Us Right Now With A Smile On Her Face. Kalynn Johnson