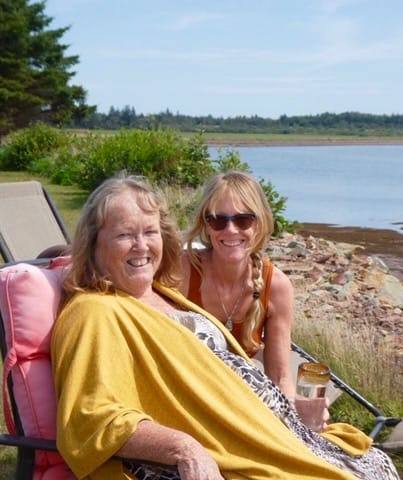 One of the hardest things I have ever helped to write was my mother's obituary. My Mom was my mentor, my very best and most constant, true friend.
She was someone who never left me in my worst times of need and never did anything to hurt me when the chips were down, which for so many years, they were so far down. Instead she kept me looking to the future in the best light possible and helped others through their darkest days as well.
There were so many roles in volunteer organizations, I cannot even begin to list them all. She was an incredibly positive driving force in the small town I grew up in so I know her life affected many.
Even in her last years while stuck in a chair at home, she did Seniors' taxes as a way to contribute helping those less fortunate and to remain a part of the community she loved so much.
Shelagh was a wife, mother, grandmother, sister, and friend to many. She was always kind, compassionate and caring. She was the first one to pick up the phone and listen to anyone who needed support. She lived a full and varied life with Walter who was the 'Love of her life', raising a beautiful family while working in the community and contributing greatly to the lives of others throughout her most active days.

She was born on August 31, 1946 and raised in Sackville, NB.(except when she was at her much loved family cottage on the Baie Verte at Rayworth Beach, where she first met her future husband, Walter, when she was just 9 years old.) Married young they lived in both Charlotte and York counties in NB together starting out.
My Mom was Valedictorian of her high school class and went on to Mount Allison University and Teacher's College, working initially at the Bank of NS, then as a teacher in Fredericton. Eventually she moved to Amherst where she taught both Junior and High school to students, who for years to come would let her and other family know they remembered her for all she did for them each individually.
She then began working in politics, very active both provincially and municipally where she wound up on Town Council as first a Counsellor and then Deputy Mayor, all while in multiple volunteer leadership roles such as President of Rotary Club, Zonta, and many, many others.
She became the first Director of the re-building of the downtown of Amherst which there is still infrastructure in place through her work. From there, she became the first Executive Director of the Anne Murray Centre and took on the role to also manage the Springhill Miner's Museum at the same time which was a great feat on its own.
Home, family, and community all benefitted from my mom's time, talents, and love. Spring Street, the 'Pond, the camp, and the cottage at Monash Cove were all gathering places where friends and family shared wonderful meals, lots of laughter, singing, card games, and great fun.
She loved to swim and sail in the warm waters of Upper Cape. She loved to ski, to party and dance, which she and Dad did while visiting every province in Canada representing either New Brunswick or Nova Scotia (and a variety of organizations). She also loved Art and to read and learn, and to show us all how quickly she could outscore us all in Scrabble or any other word game.
Later, as her health failed, her once active life had to be curtailed but despite this she remained full of positive energy and a source of immense strength to her family. She thrived seeing the lives of her family including her children and granddaughter unfold.
She asked that we celebrate her life with lots of laughter and great stories. Her love of music, dancing and her delightful smile have endeared her to many over the years and she will be greatly missed by all those who shared her life.
I was at the airport in Vegas waiting to take off when I called home and Dad told me that Mom had died in his arms that day after collapsing on the kitchen floor. The kitchen floor we grew up watching them kiss one another and dance together on for so many wonderful years…omg my heart was and still is broken.
Mom had finally gotten out of the hospital after having cancer surgery, and covid. After 3 long months for us all but for Dad and Mom especially. They were like two little kids earlier that week. It was so lovely to hear the excitement in their voices.
She had been such a trooper dealing with the nightmare of being in a hospital for that long and we had been waiting for her to get back home so we could plan our Christmas together. Our moment of gratitude was too short lived. My Mom passed peacefully at home in her kitchen on November 18, 2022, in Amherst, NS.
My mom was always my first call when anything ever went wrong, or right, in my Life. And I know I am not the only one. She never judged me even when at my worst and always tried to help me in any way she could. She remained a best friend to me no matter what. How many people actually ever really do that, no matter if they are family, or friends or what else? I know we all die, but the unexpected suddenness of this was truly a shock.
I know that eventually time will help ease this pain but for now, I can still just barely breathe.. love you Momma, I pray you are somewhere so beautiful like You, and I will look forward to seeing you again one day. R.I.P. Momma ❤️💔❤️

Contributed by Loving Daughter, Kathleen Rayworth

Thank YOU to Our WOW Gal Angel Sponsor whose mission is connect people to their Guardian Angels in visible, colourful, reflections that are alive