What can we say that hasn't been said about this wonderful young woman who in her 18 short years moved people all over the world to do random acts of kindness.
Through her
#beccatoldmeto
campaign she was able to give people a choice to focus on the loving act of kindness in a time when so much of the world is in conflict that is so ego driven.
Becca couldn't change the fact that her life would be much shorter and even more painful than she would like it to be. What she could do: Get out of her head and step into her Heart space will never be forgotten as we continue to keep this campaign alive now that she can only watch from her special place in Heaven.
In this short video presentation Becca explains how and why she decided to do what she did for ALL of US
The New Brunswick government declared the third Saturday of September "Becca Schofield Day,''in 2017.
"We hope that people will remember her for her kind heart, and we hope that people will continue to do acts of kindness in her name," Anne Schofield, Rebecca's mother, told The Canadian Press in September last year. "I think that's an amazing legacy to have that left behind, that you're teaching people to be kind."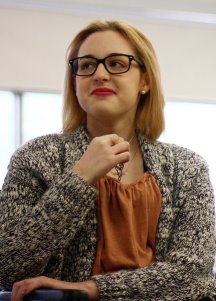 The World Says Goodbye to Becca
in this Wonderful Recap of Her Short
Yet Truly AMAZING Life
Her mother said her daughter's simple message — to be kind — brought out the best in people, and no one benefited more from #BeccaToldMeTo than Rebecca.
"Becca's
journey was not all about sadness," Anne Schofield said. "It's also about the amazing people we've met while on this journey, the things that have happened." S
he hopes her daughter's followers carry on her "legacy of kindness" by continuing to show the world what one good deed can do.
"I've always known that people have this kindness within them," Rebecca Schofield told CBC in April 2017. "Kindness and positivity, they're a choice and it's not a choice you make once.
"To know that these people are making that choice daily over and over and they're doing it because I have inspired them to do that, it's fantastic."
Yes, Becca, YOU have inspired us ALL!!!
Compiled & Contributed by fan Carolyn Shannon