Ruth Irene (Fitzpatrick) Panteluk

While I only met my Aunt Ruth a few times when I was under the age of 6 and then later when I visited Nova Scotia, after a thirty-year long gap, to reacquaint myself with both my Mother and deceased Father's families.
This Amazing Lady and her family welcomed me (once on my own and once with my Mom, as well as my brother and his family a couple of years earlier) with the warmest of welcomes.
My mom used to tell me that out of all my aunts and uncles, I was most like Aunt Ruth and after meeting her again, I could see why. A very busy lady who enjoyed people as much as I did. Yet couldn't be swayed when she believed in something and God help anyone who hurt an animal!!!

Aunt Ruth was a great animal lover and there were always pets in her home. Many people and animals benefited from her kindness and anonymously. She had many hobbies including bowling, bridge, painting, sewing, ceramics, and was a great armchair sports enthusiast. (latter, another similarity)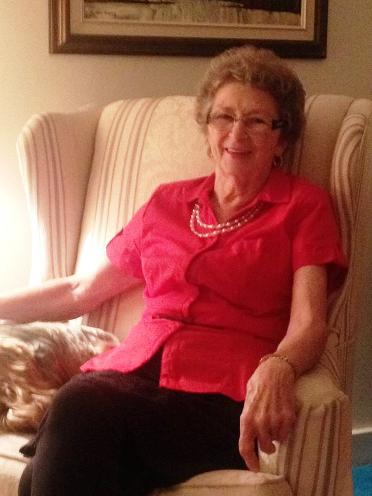 Aunt Ruth wasn't a stranger to the loss of loved ones. She had lost both a sister and brother before she even 30 years of age, another brother a few years after and survived her remaining brother, parents and husband… so she was very familiar with heartfelt loss.

She married Bill Panteluk the year I was born in 1953 and they enjoyed almost 60 years together until he died at the age of 81. Prior to then she was a telephone operator at MT&T. later worked at Simpson's for 15 years and retired to go travelling. She and her family even came to visit us in Ontario on one of their trips
Aunt Ruth was a loving, generous mom to her beautiful daughters (Cathie & Healther), her grandchildren and great-grandchild.
When it was evident she was starting to find it difficult to live on her own she took up residence at Arborstone Nursing Home where she was well cared for by the 3rd Floor and Caring Companions until she passed away on January 1, 2019, at the age of 86.
I regret that I didn't get a chance to know Aunt Ruth even better and hope to when we meet again. I envision her celebrating the reunion of her past loved ones, hearing what they have been up to since they went home.
I pray she gives my grandmother, dad, mother and brother a hug for me until I join them to do it myself.