Ruth Muskrat Bronson belonged to two different worlds. Her father was Cherokee so she was raised in a Cherokee community in the Oklahoma territory and exposed to white culture by her Irish mother, even if only through stories. From a young age, she identified with both cultures and she didn't want to choose between the two.
So she didn't.
Ruth believed diversity could enrich both individuals and communities. As a result, she embraced both parts of her cultural identity and encouraged other Native Americans to do the same.
While Ruth's racial background was not uncommon, her pursuit of higher education was. As yet, not many Native Americans, and particularly Native American women, went to college.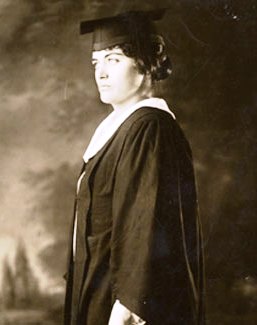 Ruth set out on a path different than that of her peers. After high school, she worked for the YWCA on an Apache reservation, took classes at the University of Oklahoma and the University of Kansas, and lectured around the country about Native American affairs. She also represented Native American students at the World's Student Christian Federation Conference in China in 1922; according to one account, she was the "poet delegate." Her impressive resume earned her a full scholarship to Mount Holyoke.
(At the same time she was pursuing a European-American-style education, Ruth held tightly to her Native American background. While she was a student, she educated the local community and even national leaders on Native American affairs. In fact, while most students were making plans for the winter recess in December 1923, Ruth was contemplating how she should greet President Calvin Coolidge.)

"It might not have meant so much to some other girls who have had such opportunities all their life, but to me it was the opening up of a whole new world of joy and beauty and womanliness," Ruth wrote in a letter that appeared in the Mount Holyoke News on May 14, 1926.

Shortly after becoming the first Native American to graduate from Mount Holyoke, Ruth accepted a position teaching junior high school English in Kansas at the Haskell Institute (now Haskell Indian Nations University), the largest Native American boarding school in the country. Her students came from nearly sixty different tribes. In addition to her classroom teaching, she sponsored the eighth-grade class, served as advisor for a literary society, and taught Sunday school.

Ruth attributed her interest in celebrating her students to her college experience. "I care more about what happens to the inner selves of these boys and girls than I did before," she wrote in her May 1926 letter. "Somehow out of my two years at Mount Holyoke I learned to care more for the individual and to respect personality."
After leaving the Haskell Institute, Ruth continued to build a career focused on bettering the lives of Native Americans and helping them reach their full potential as leaders in both their tribal communities and the larger US society.

In 1931 she began working for the Bureau of Indian Affairs as a guidance and placement officer for boarding school graduates in eight Plains states. In 1936 she moved to Washington, DC, to head up the scholarship and loan program. Ruth had long believed that scholarships were a crucial need of Native American youth. During her tenure, she helped send more than two thousand Native Americans to college.
In 1943 she stopped working to spend more time with John and their five-year-old daughter, Dolores, whom the couple had adopted a few years earlier, but she continued to advance her cause in other ways.
At the 2018 ANTIQUES ROADSHOW event in Tulsa, Oklahoma, a guest named Jennifer brought in a dress and moccasins that were worn by her great-great-aunt, during a visit to the White House in December 1923.
The original dress and moccasins were accompanied by an early photo of Ruth Muskrat Bronson, a photo of her and President Coolidge at the White House, and the original speech Ruth presented to the president.
The content of the speech, which focused on the request for civil rights for Native Americans, prompted Coolidge to invite Ruth back to the White House at a later date:
"... She wanted the president to hear from an Indian what the real Indian problem was, and it wasn't what the other people were calling the "Indian Problem." She wanted everyone to accept Native Americans as Americans and to allow them to be educated just like everyone else," Jennifer said to Bruce M. Shackelford, who appraised the items.

This AMAZING Woman was ahead of her time. Following Ruth's lead, many Native American women embraced a multicultural, blended worldview. In doing so, they proved that they could contribute to society and become leaders because of, rather than in spite of, their backgrounds. As Ruth noted in her book Indians Are People, Too, "Under the right kind of circumstances this blending can build for the individual a more satisfying life and for the world a richer personality than any one culture could produce." .