Regina Jonas was the first woman to be ordained as a rabbi. Her father, and first teacher, died when she was 13. Like many women at that time, she followed a career as a teacher but was not content with the career she chose.
She enrolled at the Academy for the Science of Judaism and took seminary courses for liberal rabbis and educators. There she graduated as an "Academic Teacher of Religion."
With the goal of becoming a rabbi, Regina wrote a thesis that would have been an ordination requirement. Her topic was "Can a Woman Be a Rabbi According to Halachic Sources?" Her conclusion, based on Biblical, Talmudic, and rabbinical sources, was that she should be ordained. However, the Talmud professor responsible for ordinations refused her because she was a woman.
She applied to Rabbi Leo Baeck, spiritual leader of German Jewry, who had taught her at the seminary. He also refused because the ordination of a female rabbi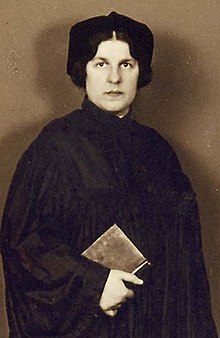 would have caused massive intra-Jewish communal problems with the Orthodox rabbinate in Germany.
On 27 December 1935, Regina received her semicha and was ordained by the liberal Rabbi Max Dienemann, who was the head of the Liberal Rabbis' Association, in Offenbach am Main She found work as a chaplain in various Jewish social institutions while attempting to find a pulpit.
While the Reform movement was theoretically in favor of women's ordination as far back as 1922, it was not until 50 years later that the first women was ordained as a rabbi in North America.
Because of Nazi persecution many rabbis emigrated, and many small communities were without rabbinical support. The duress of Nazi persecution made it impossible for Regina to hold services in a synagogue, and she was soon ordered into forced labor. Despite this, she continued her rabbinical work as well as teaching and holding services.
On 4 November 1942, Regina had to fill out
a declaration form that listed her
property,
including her books. Two days later, all her property was confiscated "for the benefit of the German Reich." The next day the Gestapo arrested Regina and deported her to Theresienstadt. Within the internment town she continued her work as a rabbi, and Viktor Frankl, the well-known psychologist, asked her for help in building a crisis intervention service to improve the possibility of surviving by helping to prevent suicide attempts. Her job was to meet the trains at the station and screen disoriented newcomers, arriving at the increasingly overcrowded ghetto with a questionnaire on the topic of suicide, designed by him.
Regina worked in the Theresienstadt concentration camp for two years until deported to Auschwitz in mid-October 1944. She was murdered shortly after. She was 42 years old.
.