When you learn someone's story and feel so inspired
that wish you had known them in person, this is how
I feel about Rosalind.
She was born 25th of July 1920 in Notting Hill, London, England, UK and was the eldest daughter and second of five children born into a prominent British-Anglo Jewish family.
Rosalind's brilliant mind drew attention at a young age. A shining star by the age of 15, she knows her calling is in the field of science. She earns research fellowships and her PhD by age 25. She serves as an air-raid warden ushering others to safety during WWII while herself skirting a leftover bomb crater to enter the lab at King's College in London, where she worked on improving the coal & graphite filter for British soldiers' gas masks. Paris was her study place in 1947 where she became accomplished in X-ray crystallography.
Then in 1951 back in London, she captures the first proof of the double helical structure of DNA. Her progressive work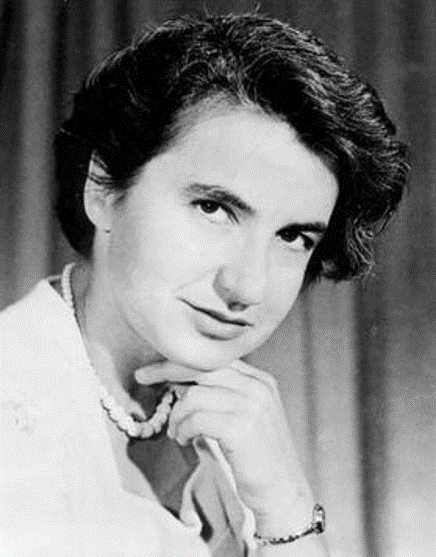 became
central to the understanding of the molecular structures of DNA
(deoxyribonucleic acid)
,
and RNA
(ribonucleic acid)
with her photo #51.
It is how you react to situations, that sets one apart from the crowd of brilliant minds!
Rosalind was said to be somewhat confrontational and brutally honest when standing her ground among her peers. She showed her annoyance upon discovering that she was expected to interrupt her work and leave the building for lunch every day. Women were not allowed in the College cafeteria. Rosalind held high expectations of those around her, just as she had high expectations for herself, by delivering the epitome of an evidence-based scientist and was not satisfied until the techniques and images were perfected.
However, Rosalind was actually quite shy in her social life and this steered her to fill her free time with work. Even though her lab was located in the basement of the college and her equipment was antiquated, she took charge with her customary efficiency directing her grad student Raymond Gosling, in making needed refinements to the X-ray equipment. Diligently she prepared three manuscripts of her research data concluding that DNA had a double-helical structure. Now she was within a few steps of the final model of DNA, when her disturbing suspicions became factual.
The atmosphere at work had become increasingly tense and then she realized that her estranged colleague (Maurice Wilkins) and graduate student (Raymond Gosling) had taken her now famous photo 51 and data to show and share with two other DNA research scientists, without her knowledge or approval.
TO KNOW WHEN YOUR WORK IS BIGGER THAN YOU!
Rosalind could have held resentment to her estranged colleague as well as these two scientists who's work she had disagreed with and had verbally stated to them that their model was based solely on conjecture. However, she chose to present her finding at a public seminar to which she invited the three. Rosalind's superb experimental work thus proved crucial to the understanding of DNA. However, when James Watson, Francis Crick & Maurice Wilkins went on to share the Nobel Prize in Physiology or Medicine in 1962, they gave no acknowledgement of Rosalind, who had passed just 4 years prior.
Rosalind reluctantly agreed to leave DNA research to study tobacco & mosaic virus shortly after publishing her data. Before her death in 1958, she had become friends with the two scientists and stayed in Crick's London home, during her last remission from ovarian cancer.
Scant recognition was given after the snub when Crick stated "He & Watson believe that they used Rosalind Franklin's evidence appropriately, while admitting that their patronizing attitude towards her, so apparent in The Double Helix, reflected contemporary conventions of gender in science."
"My mouth fell open and my pulse began to race," wrote Watson in his famous book, "The Double Helix." It was the one bit of information that he and Crick needed to complete an accurate model of the structure of DNA. Photo 51 was proof that DNA's helical structure had two strands attached in the middle by the phosphate bases. They hurried to publish their findings in the journal Nature. The same issue of the journal published much shorter articles by Wilkins and Franklin, but placed them after the longer article by James Watson, seeming to imply that their work merely served to confirm the important discovery made by Watson and Crick rather than being integral to it.
Although Watson and Crick included a footnote in their article acknowledging that they "were stimulated by a general knowledge of Franklin's unpublished contributions", it was Watson, Crick and Wilkins who went on to receive a Nobel Prize for their work, declaring "they had found the secret of life".
I am inspired by this special lady who knew when something was BIGGER THAN HERSELF and that it must become of universal knowledge. She has become my mentor with the way she handled herself through her life's challenges, by getting out of her own way and also rising above into the peacefulness of forgiveness!
Fortunately, today there are many new facilities, scholarships and research grants especially those for women in science, being named in Rosalind Franklin's honour.
Contributed by Fan & WOW Gal Gloria Messenger – of The Angel Messenger.