Army Pfc. Patricia L. Horne

Only 20 years old and already gone. It seems so unfair that
Patricia
will never be the Doctor she dreamed of becoming.
One of six children, Patricia was intelligent and driven and graduated from Greenwood High School in 2010.

Percy Powell, principal at both Threadgill Elementary School and Greenwood High School, remembered Patricia Horne as an "impeccable" student who didn't have a single disciplinary notice during her four years of high school.
She had told her Mother she was going to re-enlist because the Army would pay for her schooling. Unfortunately that was not God's plan.
For most of her nearly three years of service as a personnel office clerk
, she was stationed at Fort Campbell, Kentucky.
Horne was a human resource specialist and ensured that soldiers' records were accurately maintained and updated, Hickman said. She received the Army Commendation Medal, the Army Good Conduct Medal and the NATO International Security Assistance Force Medal.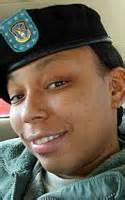 Then while stationed at Bagram Airbase in Afghanistan, Patricia died while serving in Operation Enduring Freedom. She was the 36th military woman to die in Afghanistan during the past 11 years.
Pfc. Horne was the second soldier from Mississippi to be lost in the line of duty in less than a week. She was the 25th military woman to lose her life in the Afghanistan war.
According to Army statistics, female soldiers now make up 14 percent of the total force. These females are now closer to combat than ever, carrying out essential roles stateside and overseas.
Army Pfc. Patricia Horne was buried with full military honors in Hudson Park Cemetery in her hometown of Greenwood, Mississippi. Rev. Robert Williams Jr., pastor of Community Baptist Church, where Horne was a member, said she had a higher calling than serving her country.
"Patricia has fulfilled her purpose. Now, she's gone home," he said. "Her purpose was to be a good soldier in the Lord's army."
Compiled & Contributed by Admirer Carolyn Shannon

Resources: http://thefallen.militarytimes.com/army-pfc-patricia-l-horne/6568326
http://www.bendbulletin.com/news/1346545-151/female-servicewomen-i-am-not-here-by-mistake

https://www.dailykos.com/stories/2012/8/28/1124438/-IGTNT-She-wanted-to-become-a-doctor