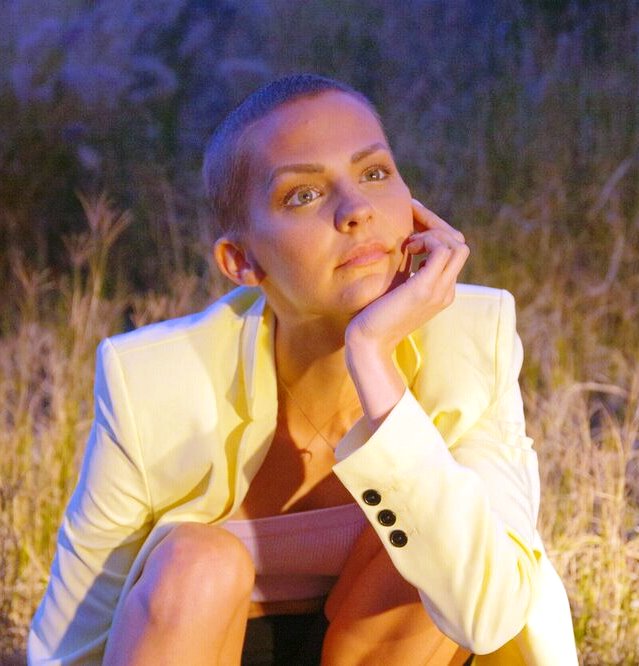 Jane Kristen Marczewski

a.k.a. Nightbirde

"You can't wait until life isn't hard anymore before you decide to be happy."
These words from this AMAZING woman have resonated with me ever since I first heard them being sung by an June 8, 2021 AGT contestant called Nightbirde.
It wasn't until she passed at only 31 that I learned her real name, Jane Kristen Marczewski.
The hairs stood up on my arms and I felt chills all over as I listened to her introduction to the hosts of the show. Her first audition was when she had been diagnosed with 4th stage cancer. Her thinness reflected how much energy she had had to use in the fight so far and yet…

once she started singing her inner strength and Angels shone through. So much so that she was given the Golden Buzzer by Simon. In her own words, she said, ""That show was the resurrection of a dream for me. It felt like a wink from God, saying, 'you're good enough to do this, kid.'"
The euphoria of that moment was cut short as only months later, she was again hit hard by her disease and only given a 3-6 month life expectancy and only a 2% chance of survival. In the midst of a global pandemic and an explosive divorce, she took a leap of faith to a clinic in Southern California. She miraculously recovered; Six months after her diagnosis, she was declared cancer-free. Tha too was not to last.
Jane was unable to compete in the finals after all, because her cancer returned with a vengeance and she was too weak to do so.
She did however make an appearance to thank everyone.
"I cannot say thank you enough for the opportunity to have a moment to share my story and we are witnessing such a beautiful picture of the human spirit.
She was truly overwhelmed by the amount of support she received. It has restored my faith in humanity."
She had been a struggling artist for years and performing for this large audience was a high many never achieve in a lifetime.
Simon eased her disappointment when her said, "You made the decision, rightly so, that your health is your priority right now and I know the last time we spoke you actually said that you feel like you let people down, On behalf of all of us, you haven't let anyone down. Even though you haven't competed – you already won."
I was delighted to find her
website
and learn even more about
Jane.
I hope you can visit it to find out more, see her photos, videos and perhaps even purchase one of her albums or an item of clothing that keeps her authentic sentiments close to your heart.
I found out she had been writing songs since she was only 6 years old many of which were ones she could sing in church.
Writing songs in her own style truly started when she ventured off to College.
She first recorded her original music in 2012, a three-song acoustic EP called Lines. The songs grabbed a lot of attention in her college town and she began performing and building an audience. The following year she released Ocean & Sky, an organic and optimistic 6-song folk EP.
After a move to Nashville in 2015, she took a sabbatical from writing and performing. Two years later, she was preparing to release new music under the pop moniker "Nightbirde." But life took a dramatic turn as she was diagnosed with stage III breast cancer.
Jane went into remission in 2018, and soon after, hit the studio to record "Girl in a Bubble," a nod to the alien experience of illness. The song was released in the spring of 2019, leading to her opening for Grammy-award-winning artist, Tori Kelly in the same arena on her college campus.
I was delighted to find her website and learn even more about Jane. I hope you can visit it to find out more, see her photos, videos and perhaps even purchase one of her songs or an item of clothing that keeps her authentic sentiments close to your heart. You can also donate to her Nightbirde Foundation
Jane passed away February 19, 2022. Being born on February 19th her death really impacted me. I am so sorry she is no longer here yet so grateful she had such a MAGICAL, AMAZING, WOW moment in her life.
Contributed by Fan Carolyn Shannon
Thank YOU to Our WOW Gal Angel Sponsor whose mission is connect people to their Guardian Angels in visible, colourful, reflections that are alive