Elizabeth Cochrane Seaman aka Pen Name Nellie Bly
WOW!
Where does one begin to write a tribute to this
AMAZING Woman
?
Nellie Bly was known for her pioneering journalism, including her 1887 exposé on the conditions of the asylum patients at Blackwell's Island in New York City and her report of her 72-day trip around the world.
This famous investigative journalist
Nellie Bly
was born
Elizabeth Jane Cochran
(she later added an "e" to the end of her name)
on May 5, 1864, in Cochran's Mills, Pennsylvania. (The town founded by her father, Michael Cochran, who provided for his family by working as a judge and landowner.)
Elizabeth (Nellie) suffered a tragic loss in 1870, at the age of six, when her father died suddenly. Amid their grief, Michael's death presented a grave financial detriment to his family, as he left them without a will, and, thus, no legal claim to his estate.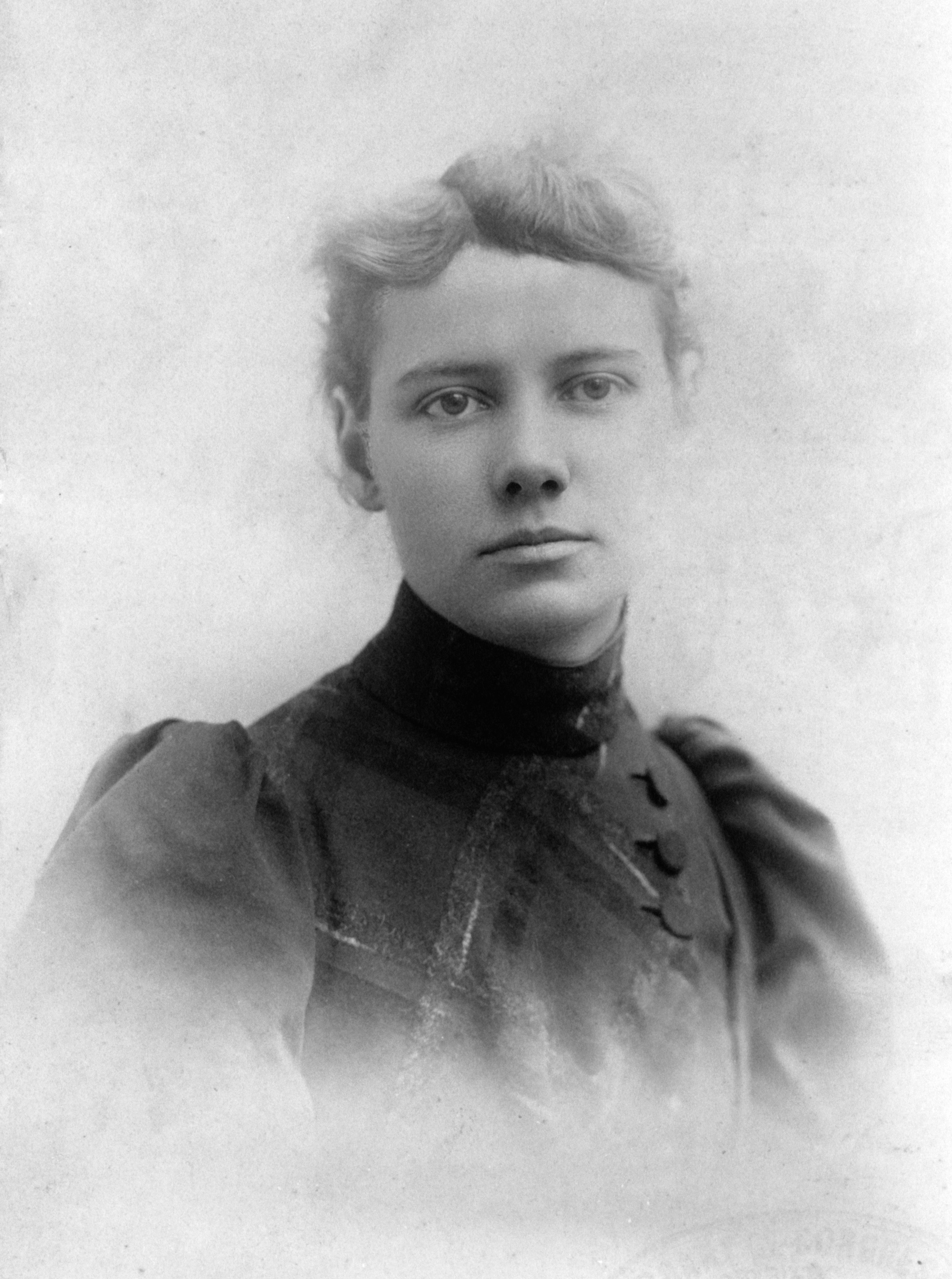 Her future began to look brighter in the early 1880s, when, at the age of 18, she submitted a racy response to an editorial piece that had been published in the Pittsburgh Dispatch. In the piece, writer Erasmus Wilson (known to Dispatch readers as the "Quiet Observer," or Q.O.) claimed that women were best served by conducting domestic duties and called the working woman "a monstrosity." Elizabeth (Nellie) crafted a fiery rebuttal that grabbed the attention of the paper's managing editor, George Madden, who, in turn, offered her a position.
She began working as a reporter for the Pittsburgh Dispatch at a rate of $5 per week. Taking on the pen name by which she's best known, after a Stephen Foster song, she sought to highlight the negative consequences of sexist ideologies and the importance of women's rights issues. She also became renowned for her investigative and undercover reporting, including posing as a sweatshop worker to expose poor working conditions faced by women.
In 1887, she moved to New York City and began working for the New York World. One of
Elizabeth's (Nellie's)
earliest assignments was to author a piece detailing the experiences endured by patients of the infamous mental institution on Blackwell's Island (now Roosevelt Island). In an effort to accurately expose the conditions at the asylum, she pretended to be a mental patient in order to be committed to the facility, where she lived for 10 days.
This exposé was a massive success. The piece shed light on a number of disturbing conditions at the facility, including neglect and physical abuse, and, along with spawning her book on the subject, ultimately spurred a large-scale investigation of the institution. A fearless lady for sure!
During her early journalism career, she wrote Six Months in Mexico (1888), which describes her time as a foreign correspondent in Mexico in 1885. In it, she explores the country's people and customs, and even stumbles upon marijuana.
In 1889, the paper sent her on a trip around the world in a record-setting 72 days. She
first proposed the idea of challenging Fogg's record to World publisher Joseph Pulitzer in 1888. Three days after he gave her the green light she left. Clad in a dark blue broadcloth traveling dress, a long, black-and-white plaid Ulster coat, and a wool ghillie cap, Elizabeth (Nellie) boarded the steamship Augusta Victoria in Hoboken , New Jersey, bound for England. She carried with her only a leather gripsack, not much larger than a doctor's bag, into which she crammed clothing items, underwear, slippers, toiletries, a flask and a drinking cup, needles and thread, writing implements, and a jar of cold cream.
In 1895, she married millionaire industrialist Robert Seaman, who was 40 years her senior and legally became known as Elizabeth Jane Cochrane Seaman. Also around this time, she retired from journalism and by all accounts, the couple enjoyed a happy marriage.

Upon her husband's death in 1904, she took the helm of his Iron Clad Manufacturing Co. During her time there, she began manufacturing the first practical 55-gallon steel oil drum, which evolved into the standard one used today. While in charge she put her social reforms into action and Iron Clad employees enjoyed several perks unheard of at the time, including fitness gyms, libraries and healthcare. Ultimately, the costs of these benefits began to mount and drain her inheritance.
Faced with such dwindling finances, Elizabeth (Nellie) re-entered the newspaper industry and began working for the New York Evening Journal in 1920 and reported on numerous events, including the growing women's suffrage movement.
Just two years after reviving her writing career, on January 27, 1922, Elizabeth (Nellie) died from pneumonia in New York City. She was 57 years old.
In 2015, director Timothy Hines released 10 Days in a Madhouse, which depicts Bly's harrowing experience in the asylum.
In early 2019, Lifetime released a thriller called
Escaping the Madhouse: The Nellie Bly Story
based on her experience as an undercover reporter in a women's mental ward. Christina Ricci starred as
Nellie
and Transparent's Judith Light played the role of head nurse.
As I find out more about all these
WOW Gal Angels
I never heard of in any of my history classes I am both honoured and grateful to know about them now.
Compiled & Contributed by Fan Carolyn Shannon