Myrtle Clarise (Russ)

Messenger
Myrtle became a sunshine inspiration in my life, literally as my 3 sisters and I would belt out the song "You are my sunshine" with an attempt to harmonize and she accompanied us on her organ wearing a huge beaming smile that seemed to fill the living room of her farm house.
My memories of Grandma Myrtle hug me with smiles inside and out. We only saw her once or possible twice a year, but for a week or more during our summer vacations to the Messenger family farm way far up north. It was a long road trip as 3 hours in the car for a child was an eternity. However we would surely be mesmerized by her musical talents and always knew that huge hugs and giggling would be encouraged when she was near.
Myrtle was definitely a woman of worth. She was born during tough times in 1886 along with 2 sisters and seemed to inherit the pioneer spirit naturally in her stride. Her approach to everyday life and all the farm chores was always just the next thing to focus upon. She seemed to have no need to multi-task, yet every meal came together in what appeared to be magical timing.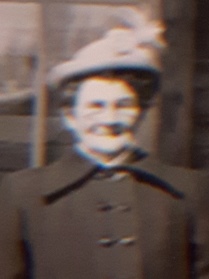 I find this focus on the 'now task' becoming much more important in my own life as it has become clear that my multi-tasking approach of late leaves me with burnt food and unsatisfactory completion of projects. Grandma's approach with a smile to each task is my now desired approach in life. She birthed and raised 11 children on that family farm along with my grandfather Arthur. This I find remarkable, as her gentle happy approach brought her through all the challenges that life brings, including welcoming a young grand-niece and a step-daughter into her home. These two young girls who were close in age to her youngest child had recently lost their mother.
She gave me a forever vision of singing from the inside out as she seemed to shine happiness to me. I remember playing with my many cousins who also came to the farm during summertime often overlapping family vacations there. My 10 sets of aunts and uncles gave me 51 first cousins to connect with and we seemed to be given free rein to run and play in the barn and fields. Then one day some chickens had to be prepared for our meals and this meant ending their lives. As very young city kids we were not prepared to witness the jerking headless chickens scurrying around the slaughtering shed as their blood spirited out of the top of their necks were their heads had recently been attached. Well my older sister shockingly disturbed by this vision starting a hysterical screaming round robin of sympathy crying for these poor chickens. Mom and Grandma came running to see what our distress was about and I remember being lifted into Grandma's arms and soothed as I was carried into the farm kitchen to be treated to homemade cookies and fresh milk as she and my Mom tried to explain why this terrible vision was life on the farm. We all heard Grandma scold Grandpa when he came in shortly after to check on us, and that seemed to make it better when she told him to not ever do that again when the little ones where nearby.
Grandma passed on her musical talents to many of her grandchildren in our large family and this makes for lots of singing and dancing during our family reunions. We believe that my older sister inherited her ability to play the keyboard by ear. My two younger sisters recall a memory of one summer when in their pre-teens they were visiting our grandparents at their apartment in town. Grandma knew of an upcoming children's talent contest on the radio and as they were continuously singing a current Elvis song, she called up the station booked them and then persuaded them to harmonize that song over the radio, "I can't help falling in love with you". She made sure they arrived on time just for good measure and when they took 2nd place award, runners up to a local boy playing a reed whistle tune, Grandma praised them continuously and said she thought they were winners. She beamed with pride and boasted about her granddaughters' singing talents to any listening ear. I'm sure she spread her love and praise over all of her many grandchildren and then great-grandchildren.
I did not receive her musical talent however I seem to hear her encouraging voice fill the room, whenever the music and singing begins. Since her passing in
1962 m
y memories of Grandma Myrtle are filled with sunshine.