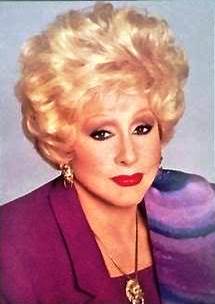 Mary Kay Ash stands out as one of America's business giants. Her story is unique. Her ideas were bold. And her actions were revolutionary. They opened new doors of opportunity for women and left an indelible mark on American culture.
This one-of-a-kind visionary reflects the great American dream. Hers was shaped by the "you can do it" spirit she learned as a child in Hot Wells, Texas. Because her mother had to work 14-hour days to support Mary Kay and her ailing father, little Mary Kay had to take on responsibilities well beyond her years.
Growing up, Mary Kay did more than embrace this empowering, can-do spirit – she lived it. When faced with new and daunting tasks in caring for her father, she would call her mother for guidance. Along with the guidance, her mother encouraged her by saying, "You can do it, Mary Kay. You can do it." As an adult, Mary Kay would pass this spirit on through a remarkable company that would inspire millions of women for generations to come.
That company story didn't begin until Mary Kay Ash faced a situation all too familiar to women in the early '60s. After 25 years in the direct-selling business, Mary Kay Ash resigned a position as a national training director when yet another man she had trained was promoted above her – at twice her salary. Her response was visionary. At first, she started writing a book that would help women gain the opportunities she had been denied.

Sitting at her kitchen table, Mary Kay made two lists on a yellow legal pad. One list contained the good things she had seen in companies. The other featured things she thought could be improved. When she reviewed the lists, she realized she had created a marketing plan for a dream company.
So, in 1963, she put her plan into action. With her past experience, the plan and $5,000 in savings, Mary Kay Ash enlisted the help of her 20-year-old son, Richard, and created Beauty by Mary Kay. It was a first – a company dedicated to making life more beautiful for women. It was founded not on the competitive rule, but on the Golden Rule, on praising people to success and on the principle of placing faith first, family second and career third. It was a company – as Mary Kay Ash would say – "with heart."
With steadfast commitment to these principles and her tremendous determination, dedication and hard work, Mary Kay nurtured her dream from a small direct sales company to one of the largest direct sellers of skin care and color cosmetics in the United States. Fortune magazine recognized the company as one of The 100 Best Companies to Work for in America and also named Mary Kay Inc. one of the 10 best companies for women.
Today, Mary Kay's initial goal – providing women an unlimited opportunity for personal and financial success – still drives the Company to even greater heights. The vision, the courage and the unwavering spirit of Mary Kay Ash continue to help women achieve their potential and bring their dreams to life. The legacy of Mary Kay Ash continues to inspire, enrich and empower women around the globe to believe that they can do great things.
She traveled to Australia to launch the Company's first subsidiary in 1971. While there, she found a poem that spoke to her heart as no other, a poem that would return home with her and take its place at the very core of our culture. Holding an honored place in the lobby of Mary Kay world headquarters is the On Silver Wings sculpture commissioned in honor of the Company's 25th anniversary. She loved the words so much she often used their stirring imagery to conclude her speeches and her letters.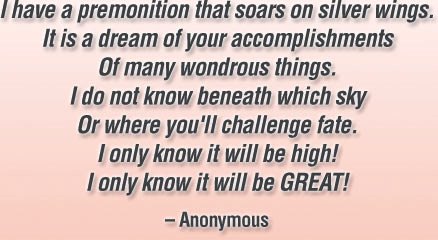 Many More Tributes to this AMAZING Lady:
"Mary Kay is someone I have always admired. I believe that America's greatness is due in large part to courageous people like Mary Kay who have never been afraid to stand up for what is right." Laura Bush, First Lady (2000 – 2008)
"Mary Kay asked that we take our families along on this journey. She knew that if we mold ourselves into positive, inspiring role models for our families, they would have a head start on living their own journey successfully. "She has empowered women and enabled them to build a better life for themselves and their families. Mary Kay will go down in history as one of the greatest female humanitarians and visionaries of our time." Doretha Dingler, Mary Kay Independent Elite Executive National Sales Director Emeritus
"Mary Kay is an outstanding person in all areas: a hardworking, astute, self-made, warm and friendly human being who goes above and beyond the call of duty to spread the good word about life, love and hope, which is so badly needed in America today. Her own personal success is founded on an intense desire to help other people and the willingness to start early and work late to accomplish her objectives." Zig Ziglar, Motivational Speaker
"Our first lady, Mary Kay, dared to follow her dream to enrich the lives of others – and she blessed my life beyond belief along with countless thousands of women who have taken Mary Kay's dream and made it their very own. She blazed the trail in the area of economic liberation for women, providing us with unlimited earning potential. "She always had a way of finding the bright side, and of learning through laughter. These are lessons I'll never forget." Arlene Lenarz, Mary Kay Independent National Sales Director Emeritus
"Her dedication influenced people like me and countless of thousands of others for more than 37 years. No other woman had such an impact on business. What an honor! What a legacy! And she wasn't even trying to be famous." Anne Newbury, Mary Kay Independent Elite Executive National Sales Director Emeritus
"Mary Kay is my heroine. She cares so much for women, and she meant so much to my mother and so much to my mother's friends who changed their lives in Alabama." Fannie Flagg, author of Fried Green Tomatoes
"Mary Kay ... had a vision to change the world for women. She had a dream, and she worked her whole life to make our dreams a reality. She wanted to build a company for women who wanted to be the best they could be, to be financially independent and to help them fulfill their dreams. "Mary Kay Ash began this Company with a dream in her heart for women to have the chance to become anything in the world that they wanted to become – to have anything in the world that they wanted to have. She wanted women to know the feeling of having a dream and gaining the confidence and skills to make that dream into a reality." Nancy Tietjen, Mary Kay Independent Elite Executive National Sales Director Emeritus
"Mary Kay dreamed of a company in which women would be paid what they were worth and not what the job was worth. She had an unshakable belief in us and what we are capable of doing. Her dream was so strong that we caught it and began to believe that no mountain was too high." Carolyn Ward, Mary Kay Independent Elite Executive National Sales Director Emeritus
"Mary Kay Ash has set an example of how our free enterprise system works that is thrilling indeed. Her life is a glowing testimony of a person who sets goals, follows them through with determination, uses innovative methods in a creative manner, but at the same time is motivated by a genuine desire to help people achieve unusual success." Dr. Robert Schuller, Rev., Crystal Cathedral, Garden Grove, California
One of Mary Kay's dearest qualities was her ability to empathize. When moved by the pain of ill and hurting women, she turned her sympathy into action, and The Mary Kay Foundation was formed. The Foundation supports research of cancers that affect women and the prevention of violence against women. We know you share her desire that women everywhere be whole and free to live an abundant life. In 2021 over $65,000 was donated to Women's Shelters across Canada.
Compiled & Contributed by Former Mary Kay Sister Consultant Carolyn Shannon
Thank YOU to Our WOW Gal Angel Sponsor whose mission is connect people to their Guardian Angels in visible, colourful, reflections that are alive