It was such a balmy September day out in 2009, with blue skies, and warm sunshine and a gentle, cool mist drifting down from Niagara Falls. Marsha Ellen, Alfred and I were all enjoying people watching and the amazing view. Marsha Ellen and I got out of the car and joyfully ran over and stood right in it... in the rainbow. We joined hands and twirled together, around, and around, and around.

We laughed, and giggled like schoolgirls; a mother and daughter enjoying the synchronicity of the moment. It was an amazing feeling. "Make a wish Mom!" she said, so I did. I wished for our family to be this happy forever. Then, just as suddenly as it had arrived, the rainbow was gone. She was gone!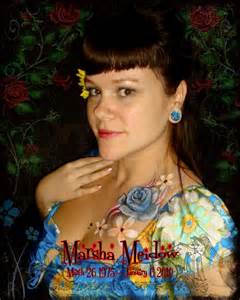 Marsha Ellen graduated from The University of Western Ontario with Honors in Women Studies on June 4th, 2002. She moved to Calgary, Alberta to work as a counselor for the YWCA, Safe Haven Program, helping to get young girls off of the street and back into their lives. Marsha Ellen encouraged women and girls to strive to reach their full potential, to face and surpass adversity, and to never give up. She had many admirable endeavors, including putting on the yearly production of the Vagina Monologues and Femme Fatale to raise thousands of dollars for the YWCA's Safe Haven program. Marsha ultimately worked to create peace in the hearts and lives of the women and girls she inspired.

(Marsha Ellen's voice) 'Peace' is a notion that can mean many things. As a human rights activist and feminist, I have contemplated the role of 'peace' in our world as it currently is, and I believe, that often the most honourable means of striving for peace at this time is done through gestures and actions of love, through creating communities, by using your voice and energies to stand up in times of injustice, and by using every ounce of knowledge, motivation, and means you can muster in order to help both friends and strangers facing struggles.
Marsha Ellen was a woman who did all of the above and more. Not only did she help young women find the means and strength to move beyond a life of sexual exploitation, to overcome addictions, and begin to find self-respect, confidence, life-skills, and talents, but she went even further to genuinely care for them, to inspire them to succeed, to smile, to create, to stand tall, to LIVE!
"I told myself that if I ever survived I would dedicate the rest of my life to helping end violence towards women and girls!"
I am telling them – "I see you" and "you matter to me" and I want to know your story, and I don't want you to be silenced anymore, and I want you to feel safe and I want you to be able to speak out loud and stand up tall and not be afraid. This is just the beginning for me – like, I can't wait to see what I am going to accomplish in my life because I am never taking any single second of my life for granted any more. (An Excerpt form"Rainbow Tipis Forever" "And So We Lived" – two books inside one cover. written by Momma Bouschca, Marsha Ellen's nickname for her Mom)
My precious, beautiful, intelligent, talented and courageous daughter, there are no guarantees as to how long each of us have to spend quality time with the ones we love. We do however have a choice as to how we will utilize whatever time we have to spend together. Memories stay with us and make up the patchwork quilt we call life.
Guardian angel, spread your wings and protect my precious child and cherish her soul. I believe in angels. I believe in you! I love YOU to the moon and back again, forever and ever!
Contributed by Beverly Meidow, Mom, Momma Bouschca
2007 HUMANITARIAN PEACE MEDAL RECIPIENT – MARSHA ELLEN MEIDOW
The 'Marsha Ellen Meidow Foundation' is a not-for-profit organization which provides funding to organizations, facilities and programs that aid women and youth at risk. MEMF will receive the profits from every book sold. The cost for both books, is $35 by e-transfer made to melspassionajax@gmail.com (Marsha's sister). I require your complete address to sign your copy and pop it into the mail. If you prefer sending a cheque. Please send it to Beverly Meidow, 3 Cascade Court, St. Catharines, Ontario. Canada L2P 1T5 or send a message to beverlymeidow@gmail.com
Rainbow Tipis Forever is a compilation of letters, poetry, photographs and true stories about real people. It is about our daughters 34 year journey until she died from a brain aneurysm and became a full body organ donor. Her eyes gave sight, her liver gave a man renewed youth, her pancreas and kidneys took two people off of dialysis and insulin, her skin helped burn victims, and her hip length hair created wigs for children with cancer.
Marsha Ellen empowered women from all walks of life. She helped women to feel safe, yet frolic in the innocence of their youth, find their inner voice, surpass their goals and attain enlightenment. She was well known in Alberta as a member of the Performing Arts, Rockabilly, Artist, Volunteer, Rock Band, Circus and Underground communities. Strong women are continuing her causes, in her memory. Rainbow Tipis Forever is about Marsha's journey through life and the people she met.
MEMF developed the "I Matter" campaign. "Educating Women and Youth to identify early signs of emotional or physical abuse. Empowering our Youth to recognize their own self-worth will provide the next generation with the wisdom to prevent, overcome and defeat violence." Please go to http://marshaellenmeidowfoundation.com for more information. (See Video on 2015 WOW REVIEW page)
"And So We Lived" was written by Marsha's Grandfather, Wilfred Benjamin Angliss. It is a firsthand account of his experiences during four years as a prisoner of war in World War 2.
Excerpt from "Rainbow Tipis Forever" To love someone... is to touch a little bit of Heaven!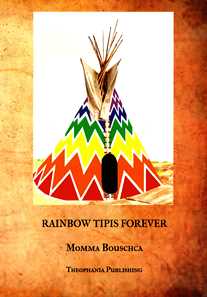 "SPREAD OVER SATIN WINGS"
I am "West Coast wildlife"... and here is my truth, my dream
Why butterflies: Why birds?
For they have wings I only long for, they can sail over oceans on the intoxicating breeze while my tired feet and optimistic thumb can only take me so far
But while I dream I dance with them...... We are family. So together we are all a part of nature.
I see with eagle eyes. I flutter with the beauty of a butterfly, and when my breath ceases I will join them in the heavens.
by Marsha Ellen Meidow