Marvel Crosson was born in Warsaw, Indiana, in 1900. Marvel was thirteen years old when she first saw the amazing flying machine at the Logan County Fair at Sterling, Colorado.
She and her brother Joe were enamored of flying as children. In the early 1920s, they jointly purchased, rebuilt, and restored their first plane, a N-9. Joe quickly earned his pilots license and turned the controls over to Marvel and taught her to fly.
Marvel already had a bit of a head start in learning from the pilots and mechanics in the field. They had answered her questions honestly, treating her with a degree of camaraderie. But when they found out she was actually learning to fly, they began to treat her differently.
"Those good fellows never forgot that I was a girl. There was a shade of condescension in their palship—they acted as though it were a pleasant thing for a girl to be interested in flying…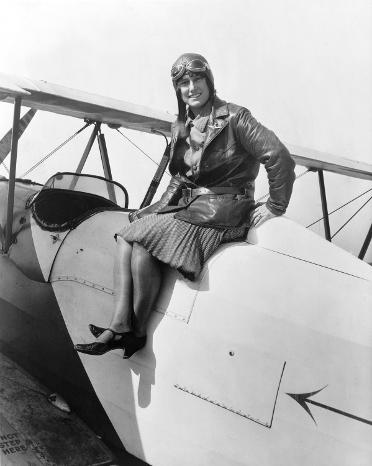 I could feel the sex line drawn against me, in spite of the fact that they were splendid fellows and pals of Joe's.'" Joe never treated his sister any less. In fact, while she was flying, he crawled out onto the wing while Marvel was behind the controls! This proved to the others that she could fly with the best of them!

In 1924 a friend lured her brother Joe north for a flying job. Marvel had no intention of joining him. She kept the N9 flying until he came home and persuaded her to climb on a steamer and head back with him.
After making the move North in 1925, Marvel received a limited commercial license, making her the first licensed female pilot in Alaska. Her brother would become a famous bush pilot as well.
Marvel Crosson flew airplanes in Alaska before any other woman even thought about it—flew co-pilot with several of the most famous Alaska bush pilots then, in 1927 earned a commercial pilots license and could legally fly on her own.
Marvel later moved away from Alaska but continued breaking records, including an altitude record of 23,996 feet (the previous record of 20,270 feet was set by female Louise Thaden). At that time fewer than 70 women piloted airplanes in the United States. None of them had made it to the Alaska Territory.
Reporters heard about Marvel and made "Alaska's Aviation Grocery Girl" and the "Pollyanna of the North" famous down in the lower 48." One reporter wrote breathlessly, "She dares death to spread sunshine and scatter watermelons over the Yukon's white wastes."
During the inaugural Women's Air Derby in California in August 1929, Marvel's plane crashed not long after take-off. The crash was fatal. Marvel's tenacity and spirit resonated long after her passing, and she was inducted into Alaska Women's Hall of Fame in 2011. She was only 29 years old.
Compiled & Contributed by fan Carolyn Shannon
Resources:
https://www.chrisdennis111.com/marvel-crosson-lady-bush-pilot/
Thank YOU to Our WOW Gal Angel Sponsor whose mission is connect people to their Guardian Angels in visible, colourful, reflections that are alive