My auntie Lori was a very special lady. She offered the world kindness and love. The two very most important things to offer the world and to each other. She would do anything for anyone. And all who met her knew that. They could feel her kind heart.
She was a loving and supportive mother of three. Amanda, Hailey and C.J. and a devoted wife to my uncle Dave.
Auntie Lori worked at the Canadian Tire Call Centre in Welland, Ontario and made a huge impact there with her fellow co-workers! This showed in many ways, but the most inspiring notion of love from her work family was on the day of her funeral they closed the centre down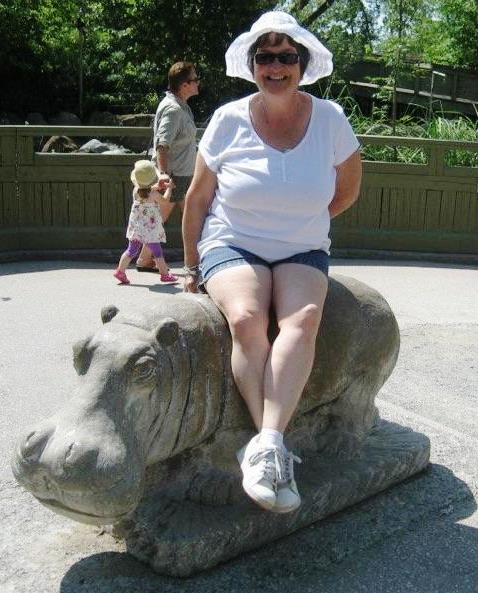 so everyone could attend. She was overly passionate about Canadian Tire's Jump Start program. This program gives every child a chance to play organized sports even when the family could not afford it. All three of her children played soccer through their growing years and she tried to never miss a game. If she ever could not make a game, her cheers were surely missed.
She would get so excited about the little things in life which I believe is an inspiration to the rest of us. Whatever she was feeling passionate about we all knew because she would show it with her happy dance!
Her smile was always so bright and her laugh and voice seemed larger then life! Never apologetic to those who don't prefer a loud lady and always stayed true to herself. She was a sensitive to the spirit world and claimed to have friends in high places. She would talk to them when needing guidance and even if she needed to find something she misplaced. I always found that so spectacular and after her passing I feel my contact with the other side much grander then before and I thank her for that.
There are plenty of good times we had as a big happy family. She touched every last one of us with her grand spirit. I will always remember her annual birthday phone call when she would sing us a happy birthday tune. I can still hear her sweet voice in my head when she'd sing her cute spin on the words of "Happy Birthday To You".
Now when I think back on my life with my loving family she is always there. She helped promote happiness and joy in our family and showed us it is a good thing to have a bold personality. And that's how she fits in as my WOW Gal Angel. With my life ahead of me I push to be as loud and full of life as she was!
Contributed by Neice, Erin Lafford