I would like to introduce you to my friend Kea Donalda Mckay Reid.
She was born on November 15, 1955 and passed away at the young age of 60, February 28, 2016. We met in high school, grade 9, and have been friends ever since. Kea married, had a son, then the happy family moved to BC and lived there for 20 years.
During that time Kea had some real health challenges. At the age of 30 she began the fight of her life, literally. She was diagnosed with non-Hodgkin's lymphomas. The treatment was successful but 5 years later she had to face the same demon and she did so with spunk.
When her mother was needing home care back in Ontario, Kea and her husband moved back to NOTL to take care of her. Her son stayed in BC. It was nice to have my friend closer. We got together a lot.

Kea became my foodie friend. When I wanted to try a new recipe or fancy cocktail, Kea was my go to person. She was game.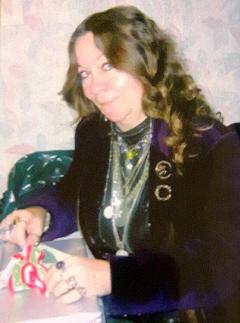 She was also my gem stone expert. Kea knew her jewelry. She wore a lot of it and always gold or silver with precious stone. I would shop for unique pieces at flea markets and she always knew right away what the stone was.
Kea had a mind like a steel trap. She remembered the birthday and other important dates of many people. We spend many birthdays together, she and her husband would arrive at our house like clock work, for my husband's and my birthday.
She and her husband were Canine Control officers in Niagara on the Lake. Kea knew every dog's name in the area, where the dog lived and who the owners were. It was crazy the things this woman remembered. Along with this memory for names, she had a memory for facts and story telling. Her family home in NOTL was a historical site and Kea could tell you the history of the property, known as "the wilderness", historical date and names involving this property.
Kea might have been all of 5 feet tall. She would say she was vertically challenged. She was small but mighty. She always said for me not to worry about things "she had my back". Don't sweat the small stuff, and its all small stuff.
After having two health scares it changed her perspective on life. She really valued it. She loved her husband, son and daughter-in-law very much. Kea and her husband would talk with their son and daughter-in-law for hours at a time. To hear that they spoke for 3 hours on the phone was not uncommon. She had the gift of gab and her son also got that gene.
Kea was the most generous person I ever met. Generous with compliments, advise, humor and gifts. It wasn't until she passed away that I witnessed that Kea was going without some necessities of life just so she could make others happy, give them the perfect gift.
On February 14, 2016 we were fortunate to be with a group of our friends. That night Kea made the statement, "30 years ago the doctors gave me 5 years to live and every day since then has been a bonus". She meant it.
Kea had been feeling under the weather for a few weeks. She went to emergency one Sunday afternoon and never came home. We will never know what truly happened but we do know what a genuine person she was and I am happy to call her my friend.
Kea never said goodbye, she would end a conversation or card with "Keep smiling".
Contributed by Her Friend & WOW Gal AnnaMarie Warriner