Katharine Coleman Goble Johnson

Katherine Coleman Goble Johnson was a pioneer of the American space movement. She received an honorary degree from the Spellman College during its 2017 Commencement ceremony. She was a true legend, mathematical genius who embodied the essence of "Black Girl Magic."

Born in West Virginia,
Katharine
was trained as a mathematician and physicist. Because the local schools only offered classes to African Americans through the eighth grade, her father enrolled his children in a school 125 miles away from their home, where her mother and three siblings lived during the academic year until they all graduated from college.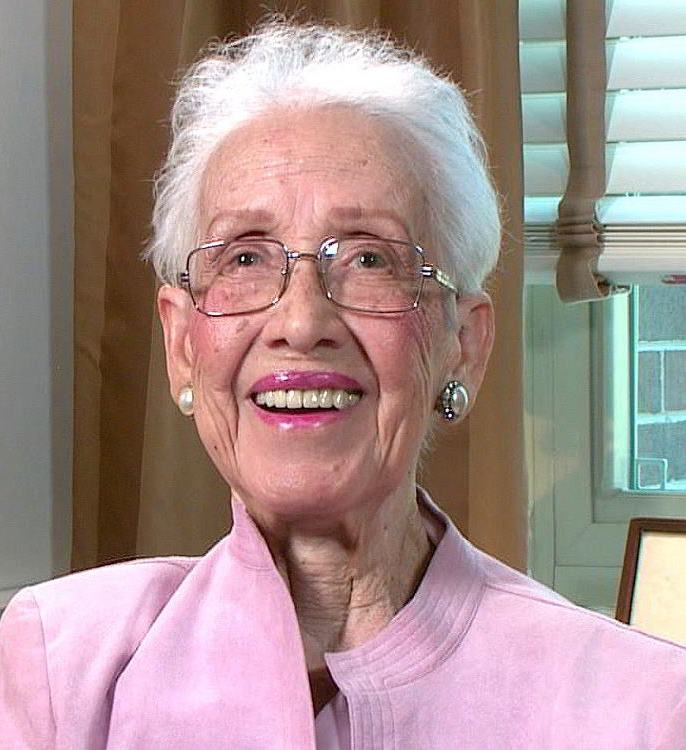 Graduating from high school at age 14, she attended West Virginia State College (now University), where Katharine majored in mathematics and French and graduated summa cum laude at age 18, earning a Bachelor of Science degree. She was one of the first African Americans to attend West Virginia University where she completed several graduate courses.
After teaching for seven years in elementary and high schools in West Virginia and Virginia, in 1953, Katharine joined the Langley Research Center (LRC), which later became the National Aeronautics and Space Administration (NASA), as a pool mathematician or "human computer." At NASA, Johnson provided computations for the early space program, including computing the launch window for astronaut Alan Shepard's 1961 Mercury mission. She also provided calculations to propel space capsules into orbit around the moon and to send landing units to and from the lunar surface. Katharine plotted backup navigational charts for astronauts in case of electronic failures. In 1962, computers, which replaced human computers, were used for the first time to calculate John Glenn's orbit around Earth. But, according to Johnson, NASA officials called on her to verify the numbers generated by the computers. Katharine also calculated the trajectory for the 1969 Apollo flight to the moon, which she has described as her most significant work.
While working in NASA's Flight Dynamics Branch at LRC, Katharine helped author the first textbook on space. Later in her career, she worked on the space shuttle program, the Earth Resources Satellite, and plans for a mission to Mars. She co-authored 28 scientific papers during her 33 years with NASA before retiring in 1986.
Katharine's social influence as a pioneer in space science and computing is demonstrated by the honors she has received, including the Lunar Orbiter Spacecraft and Operations team award at NASA; numerous NASA LRC Special Achievement Awards; National Technical Association Mathematician of the Year; and honorary doctorates from the State University of New York at Farmingdale, Capitol College in Laurel, Maryland, and Old Dominion University in Norfolk, Virginia. In 1968 and 1999, she was honored as the West Virginia State College Outstanding Alumnus of the Year for her scientific achievements, and in 1997 she was recognized as one of 24 Black inventors and scientists at the Afro-American Historical and Cultural Museum in Philadelphia. In 2000, she was inducted into the National Black College Alumni Hall of Fame in Atlanta.
Katharine was one of the 17 recipients of the 2015 Presidential Medal of Freedom from President Barack Obama in November 2015. In 2016, she received the Presidential Honorary Doctorate of Humane Letters from West Virginia University, and NASA dedicated the Katherine G. Johnson Computational Research Facility at the Langley Research Center in Hampton, Virginia.
"Hidden Figures," the highly acclaimed film about
Katharine
and her African American colleagues at NASA, was released in late 2016.
In 2018, Mattel announced a Barbie doll in the likeness of her, with a NASA identity badge. Katharine was announced as one of the members of the inaugural class of "Government Executive's" Government Hall of Fame in 2019.
The barriers she had, the hiccups and trauma that she lived through the course of her entire life? She just seemed never to let them bother her. She would not ignore them, and she didn't cower. But she'd figure out how she could get what she wanted in spite of it. Her attitude was "Oh, well, if I can't do it this way, I'll do it that way." I was in college during a time where you had lunch-counter demonstrations [against segregation]. She didn't want us to get involved because we could get hurt and because, as she told me, if you want to work at NASA, you can't have a record. Her message was: Do it another way, demonstrate another way.
Katharine Johnson passed away on Feb. 24, 2020 at the age of 101 years old.
Compiled & Contributed by Fan Carolyn Shannon
Thank YOU to Our WOW Gal Angel Sponsor whose mission is connect people to their Guardian Angels in visible, colourful, reflections that are alive