Joan Mary (Montgomery) Harvey
I have known Joan Harvey my whole life on earth and plan on journeying with her again once I go "home".
My mother was born June 24th 1923 in Liverpool England, as was my older brother, Paul. I was born in St. Catharines, Ontario so I am Canadian. Mom had gone to a proper private girls' school in London so she did not talk like the Beatles, but my brother and I still love to imitate them. She had her English accent 'til the day she passed.
Mom was a beautician in England and she was always beautifully made up and dressed nicely. In fact she refused to leave the house unless her make up was on!!!
My mother and father, James Harvey, both served in World War II, in fact they were married in battledress while the war was still going strong.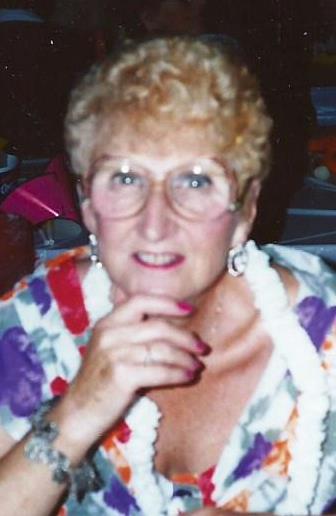 My mother loved to tell us that she drove the jeep for the General and would always remind you of it, should you ever criticize her driving!!! Which General, we never did find out to this day. Her erratic driving only happened in her later years when sadly, she would drive up on to the curbs. My son (her grandson) Josh would say, "Mom I don't want to drive with Nanny anymore, she goes up on the curbs!" I agreed, but of course if I said anything to my mother, her reply was "I used to drive for the General you know"!!! God love her!!!
My parents immigrated to Canada before I was born, around 1953. After she came to Canada my mom had a few different jobs. As a child I remember she was a manager for Tupperware home parties and would enlist my brother & I to help her when all the huge boxes of orders would arrive. We would help her sort them all out on the pool table in our rec room and bag the individual orders. She would always tell us humorous stories about each party. She had a lot of fun with the ladies My mother was a great sales person and she helped me a lot by saying "always stand up when you are addressing a crowd, that way you will have their full attention and always speak clearly and precise, without the ums and ahs!!!" Of course having a British background we were brought up to speak correctly and always use our manners. These are all traits I thank her for today.
After a long journey with Tupperware and many fun trips to Florida for the yearly conventions, Mom went to work at Woolco managing the wig department. By then I was in high school and she got me a job there also. My mother was concerned that my posture needed some help as I grew taller so she enrolled me in modeling school which helped me a great deal as I was a shy teenager. Hard to believe for anyone who knows me today!!! This was another wise decision on mom's part as modeling school really brought me out of my shell. Thanks mom!
After Woolco, my mother worked in high end ladies dress shops. Of course she always looked smashing as they say and was again a very successful sales associate.
When it was time to retire mom and dad became snow birds, wintering in Sarasota and then Fort Myers Beach. They loved the Florida life style and they were very active in their community. Mom actually performed in shows that they put on in their park. She was great at tap dancing and loved to sing. On stage she really looked like a glamour girl and enjoyed every minute of it. She would send us pictures through the mail, snail mail that is. Dad was very proud of his gal!!! Mom was well liked no matter where she was. My parents were very involved with the Lincoln and Welland regiment in St. Catharines and had many friends there. They were always having house parties over the years inviting all there friends. This continued while they were in Florida of course.
My dad passed in 1987 right after they returned from wintering in Florida one year so he has been gone for a long time. The following winter I went to Florida to help mom sell there trailer and end that part of their lives. It was a sad time as there were so many fond memories, but my mother knew in her heart it was time to give up her snow bird status.
Mom went on to live a good full live until she was diagnosed with cancer and was gone within a month on October 11th 2001. While she was ill in hospital I made sure she had her makeup on everyday as that was so important to her. I would go in daily and put lavender on her pillow and give her some Reiki energy healing which she loved to receive ("just don't let the nurses see me doing it on her"). So I held her hand and that was acceptable.
After my mother passed and she was cremated I carried out her wishes by having a service at her church in Merriton. The church was filled with all her dear friends, family and neighbours. I thought it fitting to place mom's glamour photo that she had taken a few years earlier, boa and all next to her ashes at the front of the church. As I spoke her eulogy I commented on the photo and how important it was to my mother to always be made up and looking her best. I could see the heads nodding in the congregation. I had to bring in some humour as well so I spoke about how many times there would be a torrential down pour outside and I would ask mom for a ride to school and she would say, "No I can't. I do not have my makeup on!!!" That comment got some chuckles especially from the neighbours that would pick me up and take me to school on those days.
In closing I must say how much I have enjoyed writing this tribute to my mother. There were many times over the years that I felt my mother was very hard on me, but in writing this I realize she was molding me to be the unique individual I am today and for that I am truly grateful and say, :Thank you mom! I love you!"
Contributed by Joan Mary's Daughter, Lee Royer