"If I see further, it is only because I have stood on the shoulders of giants" Albert Einstein.
I recently walked in my 'Nana's' footprints, during a trip to the East coast of Canada, New Brunswick and Nova Scotia. This filled a heart and soul that was almost empty, and I know she was looking down on me.

In life, she never looked down on me but she was taken away by Alzheimer's, and eventually a fatal fall that she never recovered from. I miss her with all my heart and soul. She was such a strong lady in life, and if I can be half of what she was, I will be proud indeed.
Please allow me to introduce myself. I am a first generation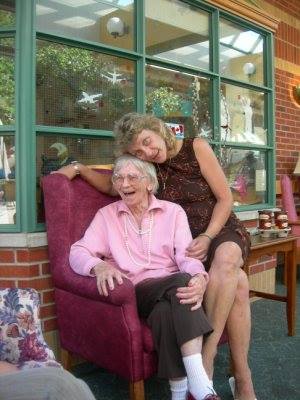 Canadian born 1963. I am proud to say my name is Inga, but I was not always so proud of this name (I was named after my Nana). My beautiful name was the source of torment, bullying and racism defined by a massacre committed some 20 years before I was born. It was of course, the Holocaust. I got my first lessons on the Holocaust very early in our school system. I was taught I hated Jews. I was therefore considered a Nazi lover and so many times heels were clicked and Heil Hitler's performed. I was in a continual state of perpetual fear and confusion. I did not have the maturity to understand it was a reference to a time I knew nothing about. Inga was not a common name when I went to school and I was literally blamed for the Holocaust. I learned a lot about defining people by stereotypes, labels and ignorance. I have a 'common' middle name, Elisabeth, but for some reason it never occurred to me to change my name. Eventually all this bullying caused me to drop out of school by grade 9. I carried shame for my legacy for many years and always wondered what side my Papa was on during the Holocaust. Please allow me to digress for a moment.

My maternal grandparents immigrated from Germany to Canada when my mom was 14. It is only recently I fully understood how much courage and strength it took to immigrate from one's homeland, particularly from Germany. They arrived here in the late 1950's. I have always been curious about 'who I am', but questions were not encouraged, at least in my mind, and by 15 I was no longer living at home with my parents.
I remember as a child I spent a lot of time with my grandparents. Both my parents worked day and night thus she looked after my younger brother and I.
I remember warm lunches and being loved, especially since going to school was so terrifying. She used to tease me with phrases such as 'Dummkopf', literally translated to mean dumb head. It was her way of teaching me and it still makes me smile when I think of that word. She taught me the little bit of German I know...it was not spoken in my familial home. My father is not an immigrant so his native tongue is English. We only spoke English at home. My Nana and Papa had a child together when I was 7, my brother 6. In essence, she had a child quite late in life, when she already had grandchildren. I understood that it was not 'conventional' to have an aunt younger than myself but it was fun to have her around. My 'papa', a quiet but honourable man, died 1989 a year after he retired from Volkswagen. I barely knew him but understood he had kept some memoirs and Nana was translating them.
Over the years I developed a new, more mature relationship with my Nana, during my 20's, 30's and 40's. She shared many stories with me about running through the streets of Berlin with her sister while bombs were being dropped (It is my understanding 80% of Germany was bombed during WW11). But she also spoke of dancing and how much it brought her joy. I am certain she was what was known as a 'Swing kid', a way of rebelling against the establishment during that time. She shared stories about the struggles she went through, how the father of my mother was bayoneted by the Russians during the war, of the stigma of being a widow and single mother, even in war time. How she married a helmet to address the stigma. How she married in haste, an alcoholic man who later committed suicide on Christmas Eve., to allay the judgement of others. How she finally met my Papa, a marriage that lasted over 3 decades. She was always frightened by the sound of thunder, a memory of war I presume. I can only imagine as I have never lived through a 'World War'.
I recently was fortunate enough to translate and transcribe my Papa's memoirs. My best friend is from Vienna, Austria and remembers a lot of the old German dialects. For hundreds of hours my friend translated while I researched and transcribed. I learned during this process including where his sympathies were. He was not a Nazi, he struggled with the concept of war a lot, but choice was not an option, everyone deemed capable was drafted in those days. He was a German soldier. I also learned how much he and my Nana loved Germany. They even tried to go back 'home' when their youngest was 7. They sold everything they owned and went back home, but home was not the same as they remembered, so they returned a few months later.
My Nana was the strongest woman I knew. She was the epitome of strength under tyranny, poverty, stigma and adaptation. Her love for me was unconditional and she is always in my heart. Age has made me even more of an admirer. I loved to dance for years and I have the Osteoarthritis to prove it. It is only through reflection I see how alike we were. I have survived battles of my own and I know it's because she loved me. She never judged me, perhaps the only one during my formative years. I am a fighter, a survivor and I know I got that spirit from her.
She always had lovely cookies or chocolates or was cooking something. We always spent Christmas Eve (children in Germany and Austria open their gifts Christmas Eve.) at her apartment and the tree was always beautifully decorated. We ate Knackwurst and potato salad and listened to Christmas music. She loved Clint Eastwood movies and cowboys, Young and the Restless and Jerry Springer. We always chatted during Jerry giggling away at the silliness of it all. She role modelled a strong woman and I am a strong woman. She got to meet my friend who transcribed my papa's memoirs. Her name is Gina Podlesnigg and during the Holocaust she would have been my enemy. Theoretically of course. Gina has been my friend for 16 years and comes to Canada for 6 months every year. I have come to understand I don't hate Jewish people, in fact, I am drawn to their strength and wisdom. Hitler was evil and through propaganda, he allowed others to enforce his hatred of anything that wasn't blonde haired and blue eyed. I have learned that even though I was blonde haired and blue eyed, I was still the victim of racism. It has taught me empathy. My Nana taught me love. She sang lullaby's in German that remain in my heart to this day. She taught me self pride and confidence.
I am no longer ashamed of my name. I haven't been for a long time. I was named after a remarkable woman who will forever be in my heart. I now carry my name with pride knowing I am lucky enough to live in Canada and because she was so brave. I guess you could say she is my hero. Her favourite number was 13 and now it is mine. I think she was a bit of a non-conformist and so am I. I love you Inge, forever and ever. Thank you for loving me so much. Inga.
Contributed by granddaughter Inga McKay