Henrietta (Pleasant) Lacks
Henrietta Lacks was born Loretta Pleasant August 1, 1920, in Roanoke, Virginia. At some point in her life, she changed her name to Henrietta.
Do you ever wonder if your existence will make some impact after you are gone? That thought has come to me at times. After reading about a young black woman who died of cervical cancer many years ago, I was impressed to realize HER legacy is truly unique and a positive benefit to all of us today and into the future. Henrietta Lacks impacted the medical world simply by BEING herself.

A young Virginian mother of five, Henrietta Lacks, visited The Johns Hopkins Hospital in 1951. This hospital was one of only a few hospitals to treat poor AfricanAmericans. She presented with vaginal bleeding which led to renowned gynecologist Dr. Howard Jones discovering a large, malignant tumor on her cervix, a very unusually aggressive form of cervical cancer.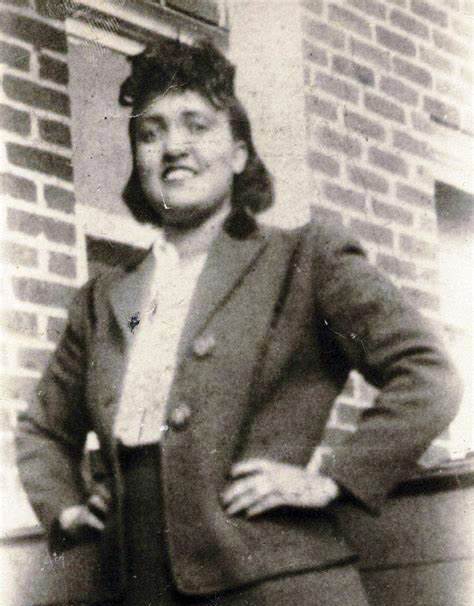 Medical records show that Henrietta underwent radium treatments for cervical cancer which was the best treatment available at that time. A sample of her cervical cells was obtained as was common practice at the time and sent to Dr. George Gey who was a prominent cancer and virus researcher. He had obtained cells from all patients with cervical cancer but those cells had quickly died. He was stunned to find, however, unlike all of the previous patient cells, that Henrietta's cells not only flourished but they doubled every 20 to 24 hours. He discovered that Lacks' cells could not only be kept alive, but would also grow indefinitely.

These incredible cells were nicknamed "HeLa" cells, from the first two letters of her first and last names, For the past 60 years, Henrietta's cells have been cultured and used in experiments ranging from determining the long-term effects of radiation to testing the live polio vaccine. Her cells were commercialized and have generated millions of dollars in profit for the medical researchers who patented her tissue. Since then, her "Immortal" cells have been used to culture an endless supply of cells for medical research, and have been the subject of thousands of scientific papers.
It was only much later, that her family found out that these cells had been obtained without Henrietta's knowledge or permission, long before federal law prohibited taking biological samples without consent. Henrietta's family members, who have not benefited financially from her legacy, did not know for decades that her cells were being used. Of course, after the full genome was posted publicly, concerns over privacy prompted discussion about the ethics surrounding the use of genetic material.
Today, Henrietta's HeLa exceptional cells are now used to study the effects of toxins, drugs, hormones and viruses on the growth of cancer cells thus avoiding experimentation on human beings. Henrietta's unique cells are used to test the effects of radiation and poisons, to study the human genome, to learn more about how viruses work, and have played a crucial role in the development of the polio vaccine.
Although she ultimately passed away on October 4, 1951, at the age of 31, her cells continue to impact the world. As of August 2013, two members of her family sit on the six-member committee that regulates access to the HeLa genetic code by research projects funded by the National Institutes of Health. The 2010 publication of "The Immortal Life of Henrietta Lacks" written by Medical writer Rebecca Skloot garnered widespread attention. Informed consent dominated the discussion of the book.
Henrietta's story has led to "Lessons from HeLa Cells: The Ethics and Policy of
Biospecimens" by Laura M. Beskow
and many more journals continue.
Henrietta Lacks truly lives on through her unique HeLa cells. This poor. hardworking African-American tobacco farmer, her life was taken far too young and yet she, to this day and beyond, continues to give to the world's health simply by being Henrietta.
A Cancer survivor myself, I am honoured to
share this info of an Amazing woman little
known by those never touched by this disease. I will always be grateful for her albeit unknowing contribution.
She is definitely one of my valued woman heros