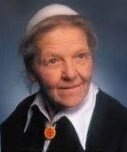 On June 29th 1999 my two friends Arden Kozak, Rena Langlois and I had the pleasure of going to Boulder Colorado to study with Rev Hannah Kroeger!
I must say first of all what an awe amazing adventure it was to learn from such a well renowned healer teacher and author!
We were in the class room with her for a total of 8 days with three days off in the middle to explore Boulder and the mountains, which was great!
We were in class with Hannah for 8 hours during the day then 4 hours in the evening after supper! Needless to say, we were in awe of the knowledge that we learned from this 4 ft 11inch awe amazing teacher who taught from memory.
She never looked at an any notes! Her stamina and energy was amazing and she was an excellent teacher!

She guided us on herb walks around her property every other day and told us the healing properties of each herb. All the food that we had while there was organic, and Hannah always blessed it with a rosewood cross before it was served!
Hannah, the daughter of a German missionary and was born and raised in Turkey where she studied natural healing methods under the European and Oriental schools. She studied nursing at the University of Freiburg in Germany and worked in a hospital for Natural healing.
She travelled extensively throughout the nation lecturing. Hannah authored 11 amazing and informative books, of which I have a few!

She taught us all about parasites, flukes, Lyme disease, saliva readings and so much more!
Hannah shared with us how healing Essiac tea was and that it was developed by Rene Caisse in Bracebridge Ontario.
Essiac is Rene's name spelled backwards! Some of you may remember that Ray Riddel from St. Catharines had the recipe for the tea years ago and would make up bottles of it every day and sell it at a very reasonable of 5.00 per bottle to help local people in our area!
Hannah was the founder of Chapel of Miracles and the owner of New Age Foods in Boulder. She was able to help thousands of people improve their health and well being.
Hannah taught us about spirit protection and cleansing our auras and how negative people put garbage and negative thoughts on our auras. Our spiritual auras are 15-18 feet in diameter and our emotional mental aura is 8 feet in diameter!
Hannah also taught us how every thought has power and energy. That we create our own self entities by giving negative thoughts and emotion, energy! She guided us through all the chakras and also taught us about food combining!
After our 4 wonderful days exploring Boulder and the mountains it was time for level 2.
Some of the things we were taught was more about parasites which many people think is a 3rd world problem and how for instance young children in day cares can pass parasites on to one another by touching their soiled diaper and then touching other children since many times their hands go in their mouths! Who knew!
And lots of times doctors do not consider parasites because apparently, they did not cover them in their medical training!
Hannah had a parasite remedy called wormwood which is most likely available in Health Food Stores or can be ordered I am sure! For those people traveling to different foreign counties parasites can also be something to watch out for as well!
Hannah also taught us about how to do distant healing for loved ones, friends or clients through their photographs, which was really interesting!
There is so much knowledge that we learned from Hannah, and I could go on and on about it but I know I have to keep this tribute short!
Unfortunately, Hannah passed away on May 7, 1998. I feel very blessed that we were able to study with this awe amazing knowledgeable woman!
I believe that many of her books are still available and well worth the read! Check them out above if interested. A couple are such rare prized gems to healers that they are can be expensive. Her Wormwood Kit for Parasites is still available too.
While I was just finishing writing the tribute I was getting head tingles and I do believe that it was Hannah from spirit side saying she approved! .
Contributed by Fan & Past Student Lee Harvey, Niagara Falls, CAN