Evalynn Linnea Olson

a.k.a Linnea
Evalynn Linnea Olson, known to all as "Linnea", died at the age of 61 in 2021.
She was a mother of 3, loved by family and friends for her vast artistic mind and warrior spirit, as well as being a fierce advocate and blogger for the cancer community while living with lung cancer for 17 years.

She shared her life with her extended family and enjoyed an active childhood with her six brothers and sisters. She is also survived by her nine beloved nieces and nephews. Being with her family brought Linnea tremendous joy and fueled her incorrigible zest for life.

As a lifelong artist, Linnea had an incredible eye for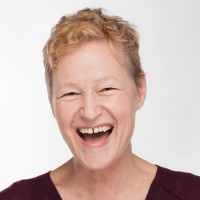 finding beauty in the ordinary – which she captured in her paintings, curated collections and nature photography. She found inspiration in beaches and sidewalks, rivers and train tracks- constantly in a state of creation.
In 2001, despite her active, healthy lifestyle, Linnea began experiencing challenges with her health, progressing to a long bout with pneumonia. As an otherwise healthy, young, non-smoking female, accurate diagnosis was elusive. After several years of medical evaluations, her life was changed when she was diagnosed with stage 1B lung cancer.
Due to the advanced nature of her cancer, Linnea found herself as a patient at the forefront of cancer treatment and research. With deep belief in scientific research and a voracious need for more time, over the space of 17 years she was a participant in six clinical trials, which served as landmark studies that changed the course of lung cancer targeted therapy the world over. Her body responded well to the novel therapeutics, to the extent that medical imaging scans of her lungs, before and after treatment, are still shown on display at the
Paul S. Russell Museum of Medical History and Innovation
at
MGH
.
.
Linnea's natural inclination to connect with others, along with her poetic yet precise way with words, led her to create a
blog
entitled: "life and breath: outliving lung cancer - for the terminally optimistic" (
outlivinglungcancer.com)
. Her
blog
soon became a resource for more than 4,000 followers, from patients and caregivers to physicians and biomedical researchers. Her well-informed and bravely candid writing shared essential resources and medical knowledge, while also giving voice to what it is often like for patients living with cancer. With honesty and humor, her writing created a community that stands as a testament to who she was.
Linnea had a curiosity for life and learning, a talent for teaching, and an unyielding desire to share her unbiased, truthful observations of the world around.
Always a strong patient advocate, Linnea's work touched the lives of people around the world. She presented at numerous forums, including Harvard Medical School,
TED Talks
, industry presentations and international conferences.
Linnea packed her studio with fascinating collections of shells, sea glass, bell jars, books, antique doll heads, globes, vintage clothing, rusted bits of metal, pieces of discarded paper and wood and an impressive array of other interesting things she found on her frequent walks, thrift store trips and eBay scourings.
She had an incredible eye as a curator, turning seemingly unwanted, discarded items into stunning collections. 2018, her last exhibition,
Found, at the Linda Hummel-Shea ArtSpace Gallery of Northern Essex Community College
presented dozens of assemblages -- combinations of found objects that together create new poetic meanings.
These works embodied Linnea's drive to find deeper meaning in her life through her art and collections- and her deep love for the often overlooked or forgotten.
Linnea was well known to all as a friend, an informal counselor and a generous spirit. While she spoke of herself as a painter, Linnea's artistic identity was as often defined by an insatiable desire to collect and curate.
One of her most sacred daily routines was a long, wandering walk which became even more important after adopting her energetic Shiba Inu, Kumo. She often documented her walking observations in a series of Facebook posts she called "Notes from the Field." Reading them offered a glimpse into Linnea's heart and mind.
Her friends will carry Linnea's inspiration in every walk while she reminds them to keep their eyes open to the beauty of the world around them and to remain always curious.
Numerous tributes were written in the days and weeks following Linnea's passing. This is no surprise to anyone. If you have spent even a little time in the lung cancer world over the last decade and a half, chances are you knew Linnea, had read her impactful blog, had met her in person at one of the numerous conferences she had been invited to speak at, or knew about her contribution to medical research, with many of the drugs she tried first that are now standard of care for hundreds of thousands of
ALK patients
around the world.
Compiled & Contributed by fan Carolyn Shannon

Thank YOU to Our WOW Gal Angel Sponsor whose mission is connect people to their Guardian Angels in visible, colourful, reflections that are alive