Elizabeth (Elsie) Muriel Gregory MacGill

I first read about
Elsie
and immediately identified with her, Not because I am near as skilled as she but because I also come from an era where girls were not encouraged to seek higher education and women had few choices for a career. While she was still a child, Canadian women won the right to vote for the first time. In the 1920s, she was the first woman to graduate in engineering from the University of Toronto and to later earn a master's degree in aeronautical engineering.
Elsie
would live to see the first person walk on the moon, and she would become the first woman aircraft designer in the world,
despite that social attitude towards working women.
Elsie achieved many firsts in science & engineering at a time when women were still considered to be inferior in the sciences. In 1923, at the age of nineteen, she became the first woman to attend engineering classes at the University of Toronto.
Her life spanned much of the 20th century. Elsie became a popular heroine of her time and inspired the creation of the comic book "Queen of the Hurricanes" in the 1940s, urging young girls to move forward and seek higher education. In later life she became a powerful feminist activist.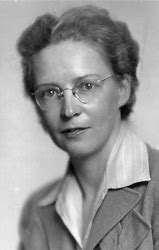 Elsie's twin passions for engineering and feminism drove her throughout her life. They caused her to work for more than fifty years in her field and to become a tireless advocate for women's rights. She supported women's struggles, their rights and achievements. She continued her dedication into the 1970s as an activist, changing the lives of women in Canada for the better.
Elsie was the first woman to earn a master's degree in aeronautical engineering in 1929. She was also the first practicing Canadian woman engineer. With her educational credentials well in hand, she should have been able to jump right into the fast-paced evolution of the aeronautical field, and she probably would have, had it not been for a sudden battle with polio just as she finished her courses. Instead of celebrating her educational and professional achievement, Elsie was struggling simply to get back on her feet.
To her credit, Elsie was not prone to giving up. Despite her physical challenges, she kept drafting and writing articles on aviation including publications in Chatelaine and Vogue. And, when she felt strong enough, she started post-graduate studies at the Michigan Institute for Technology, before accepting a job at Fairchild Aircraft Limited in the Montreal area. This was an important opportunity, and it was a job offer in the middle of the Great Depression!
This led to a new job offer as its Chief Aeronautical Engineer in 1938 at Canadian Car and Foundry in Fort William, Ontario (now Thunder Bay, Ontario). Just before leaving Montreal, Elsie accomplished another important professional first – membership in the Engineering Institute of Canada (EIC). With the support of key men from the University of Toronto and her professional network, she became the EIC's first woman member, and a passionate and dedicated member at that.
At Canadian Car and Foundry,
Elsie
had the chance to design and oversee the production of the Maple Leaf II (another first for a woman) and introduced her to the Hawker Hurricane aircraft. Her work on these aircraft for the Battle of Britain led the American
True Comics creation of "Queen of the Hurricanes",
a moniker that subsequently became welded to
Elsie's
historical identity despite the fact that she led a very rich and multifaceted life after this point.
especially economic equality, and the importance of seizing the promise of technology in creating a better world.
Due to her lifelong achievements, Elsie received many accolades & awards, including the Order of Canada and four honorary doctorates, the first of which was awarded by the University of Toronto. Moreover, she has been commemorated in a wide range of ways including awards in her name (eg.The Elsie MacGill Northern Lights Award), historical markers in Toronto (City of Toronto) and Thunder Bay (Parks Canada), through written accounts (articles and books), and currently at the Canadian War Museum's World War Women exhibit.

Elizabeth
(Elsie)
Muriel Gregory MacGill, OC, aeronautical engineer, feminist was born
March 27, 1905 in Vancouver, BC; and died 4 November 1980 in Cambridge, Massachusetts.
As a twenty-three year member of Business & Professional Women myself, I admired her hard work and amazing achievements despite the obstacles presented to women in those times. Her success opened more doors for women to strive for higher goals. Elsie was truly a woman ahead of her times.
Compiled & Contributed by WOW Gal & Fan Nancy Broerse
Resources: