Dorothy (Wetherald) Rungeling
Dorothy Rungeling was an award-winning pilot from Fenwick, Ontario. She worked through a private licence, commercial licence, instructor's certificate and senior commercial licence. She took part in numerous air races across North America and received the Order of Canada in 2003. Dorothy is the author of several books, such as The Flying Housewife, which recounts some of her aviation adventures.
She was the first woman to fly a helicopter solo in Canada, among the first to obtain her pilot licence back in 1949, and the first Canadian woman to fly an international air race.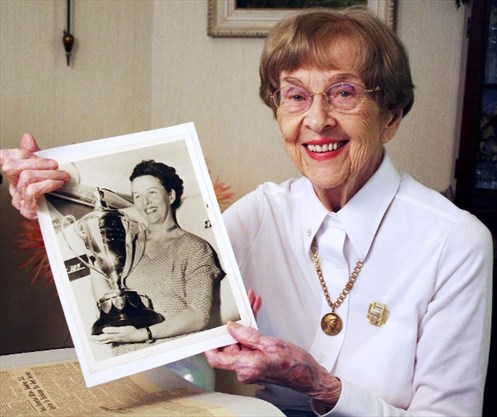 In 2010, on her 99th birthday, a Dorothy Rungling Commemorative Stamp was issued in her honour.
In 2015 the airport where she first learned to fly was renamed after her. She was Pelham's first female town councillor and a recipient of the Order of Canada.
June 2019, a large crowd of people gathered for the unveiling of a new plaque commemorating both Dorothy and the fact the 43rd annual Air Race Classic women's race wrapped up at the airport just one day earlier. More than 100 women pilots in teams flew more than 2,400 miles over several days before arriving at the airport renamed for Dorothy.
Dorothy's passion for flying, and her love of the community where she grew up, have changed the face of Canadian aviation and helped shape the local landscape. Credited for her work helping to save the Niagara Central Airport, it was renamed the Niagara Central Dorothy Rungeling Airport in 2015. In 2003, she was awarded the Order of Canada for her many accomplishments in aviation. Despite these honours, Dorothy's path to becoming a pilot was not a simple one. Out of fear that people would be upset by the idea of a female pilot, she said she didn't tell anyone — including her family — that she was training to get her pilot's licence.
The last time Dorothy piloted an airplane was in the early 1970s, however she recalled her first flight in 1948 as if it were yesterday. She remembers how odd it felt in the beginning, sitting stationary at the controls while flying. "Up in the sky] there's a strange feeling of not moving," she said.
"I remember asking the instructor, 'When are we going to start moving?' He started to laugh and said we were doing 120 miles per hour."
Dorothy went on to have an illustrious career as an air-racer and an advocate for women in aviation. Throughout her life, she has been a pioneer for women in aviation. She was the first Canadian woman to attain a commercial air license, and to compete in international air races. She entered several Canadian and International aviation contests, including: All Women's International Air Races, the Women's Transcontinental Air Races, and the Canadian Governor-General's Cup Air Race. At the age of 99, Dorothy added to her list of firsts by becoming the oldest Canadian woman to fly a helicopter solo.
In 1964, Dorothy's pioneering spirit led her to pursue a career in municipal politics. She became the first woman to serve as a Councillor in Pelham. Though looking back, she appreciates having the experience and having the opportunity to serve the community she loves, yet she wouldn't do it again even if she were younger.
For some years, Dorothy shared her passion for life with the community she loves each week as a columnist with the Voice. These pages, however, were not the first place her writing appeared. Dorothy was only 11 when she began following in the footsteps of her mother, Ethelwyn Wetherald — a published writer and poet.
Dorothy's first article was featured in The Farmers' Sun and was about her experience at the Toronto Winter Fair. That same year, her parents bought her a bicycle for her 11th birthday. Her love of riding her bicycle evolved into a passion for riding motorcycles and driving in general.
After turning 90, Dorothy wrote and published 4 books, The Road to Home, It's Fun to Grow Old, The Flying Housewife and The Life and Works of Ethelwyn Wetherald, her mother.
It wasn't until she turned 102 that Dorothy decided to turn in her drivers licence. "I hadn't got to the point where I was dangerous or couldn't see or any of those bad things, so I just kept on driving," she said.
"But then I thought about being a person that was a 102 years old, and how most of us aren't fit to be on the highway. That's when I decided to stop."
Dorothy passed away February 17, 2018, at the age of 106 years old, in Fonthill, Ontario. An AMAZING Life for an equally AMAZING Woman!
Compiled & Contributed by Admirer Carolyn Shannon