Dawn Marcus
Dawn Marcus was an expert on chronic pain and migraines. Her books include "The Power of Wagging Tails: A Doctor's Guide to Dog Therapy and Healing," "Fit as Fido: Follow Your Dog to Better Health," "The Woman's Fibromyalgia Toolkit: Manage Your Symptoms and Take Control of Your Life," "The Woman's Migraine Toolkit: Managing Your Headaches from Puberty to Menopause" and "Therapy Dogs in Cancer Care."

She was a therapy-dog handler who took her two soft-coated wheaten terriers, Wheatie and Toby, to nursing homes, convents and hospitals, as well as programs aimed at reducing stress for college students.

On October 19, 2013, the fibromyalgia and chronic pain community lost a beloved physician, researcher, advocate and author. I lost a friend and colleague.
Dawn A. Marcus, MD, was a neurologist, a diplomate of the American Board of Neurology and Psychiatry, a faculty member at the University of Pittsburgh medical center, and a professor in the Department of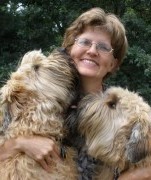 Anesthesiology. She was only 52 when she passed away from complications following a heart attack.
Dawn conducted numerous studies and wrote multiple books about chronic pain. Her particular areas of focus were fibromyalgia, migraines and headaches. She was also a dog lover and trained her two soft-coated wheaten terriers to be therapy dogs. Last year she even did a study on the benefits to FM patients of interacting with a therapy dog in the doctor's waiting room.
Well known for her caring concern for her patients, Dawn was the kind of doctor every pain patient dreams of finding. Dawn's approach to her patients was described by her colleague Dr. Cheryl Bernstein in the Pittsburgh Post-Gazette obituary. "...she dealt with pain-saddled patients in a way that belied the stereotype of rushed, indifferent doctors. She listened and gave them the time to tell their story, as though that was the only thing going on. She outlined a really thorough plan for them...and gave patients hope that they could manage their pain."
I first met Dawn almost three years ago when she was finishing up work on her book The Woman's Fibromyalgia Toolkit. She invited me to look over the manuscript and make suggestions, then asked me to write a review to be published in the front of the book: How Alcohol Affects Your Heart.
One of the things that impressed me most about her book was that she not only asserted that fibromyalgia is a very real physical illness with multiple biological abnormalities, she backed up her assertions with solid research. She also did an excellent job of explaining what's happening in the body of someone with FM in a way that is easy to understand for those of us who don't have a medical or scientific background.
A little over a year later, I again had the honor of working with Dawn on a study about how fibromyalgia impacts families. The inspiration for that study came about when someone close to her developed fibromyalgia and she learned firsthand how much of an impact FM can have on a person's family life. Realizing that relationship problems can affect a patient's treatment progress, Dawn felt it was important to learn more about the impact of FM on families, then share that information with other physicians.
Together we developed the Fibromyalgia and Family Impact Survey, posted it online and invited FM patients to complete it. The response to the survey was phenomenal––more than 6,000 people participated! The results of the survey were subsequently published in the journal Musculoskeletal Care.
I particularly remember something Dawn told me that especially endeared her to me. She said when she spoke about fibromyalgia before a group of doctors, she always asked them how many have FM patients and most of their hands would go up. Next, she asked them how many enjoy treating FM patients and most of the hands would go down. Then she would tell them that she loves treating FM patients because they are the most motivated of all of her patients. She would go on to explain that her FM patients wanted to get better so badly, they did the best job of following the treatment instructions she gave them.
Too often there is still a perception that people with FM are malingerers, that we don't really want to get better. But Dawn saw what those of us with FM have always known––we very much want to get well and will generally do whatever it takes if we think it might help us to improve.
Dawn truly cared about people living with chronic pain. She will be deeply missed. My thoughts and prayers are with her family.