Cindy Stowell
I was both shocked and AMAZED to find out that this lovely, seemingly quiet, unassuming Jeapordy! contestant died before her reign as champion had even aired.
Her voice was more of a whisper and while you could sense a spirit of adventure and competition she seemed to be holding back to maintain her strength and stamina. This was a good thing because in spite of being diagnosed as having Stage 4 Colon cancer she held her own as Champion for 7 plus days.
Her parents, Greg and Carole as well as her long-time boyfriend Jason Hess were honoured with witnessing her in the time before cancer took over. The side of Cindy that was full of energy, passion and love of learning. The side of her that ever concerned with humanity and demonstrated this by donating her winnings to cancer research organizations.
She lost her battle with cancer on December 5, 2016 just 8 days before the taping of her reign was to air. That is when I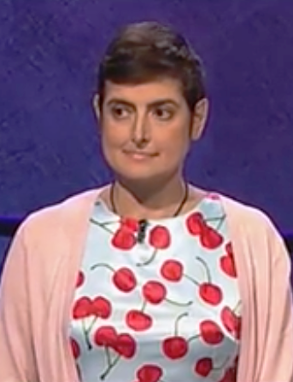 first met
Cindy
and became mesmerized by her and her ability to keep winning despite being behind on occasion. She will win the final question and reign another day as if being both assisted and protected by Angels.
Thankfully when it became known to Jeopardy! contestant producer Maggie Speak that she was terminally ill, once Cindy qualified, her air date was moved up a few months. While not soon enough for Cindy to see while alive.
Now after finding out this was a lifelong dream of
Cindy's
I believe she truly was being held up by divine arms. I also feel she was watching from a painless place in heaven as we all watched her live her dream. Years of being a science content developer as well as
practicing with her friends and family had helped prepared her.
I only got to know this wonderful woman as I cheered for her feeling a huge sense of loss when she had to pass her Jeaopardy! championship on the the next winner. I felt a sense of loss different from the usual disappointment normally experienced with other contestants. At the time I thought it was odd and maybe because I had just lost my brother the same year.
It was a couple of days later I heard the news she had died and I felt a deep sorrow for the loss of a special soul who gave to so many until her very last breath. Cindy is a truly a WOW Gal Angel.
Compiled & Contributed by Admirer Carolyn Shannon