Carmella (Tonna) Silvio:
Carmella was born into a family of 10 in the city of Cospicua, Malta.
She married Joseph Silvio in 1939 and bore 8 children of her own. Unfortunately, one of her sons been died at birth as a "blue baby".
It is hard to believe that this woman was such a "ham" as her family affectionately called her, always joking and making people laugh when we know what she endured in her life. Her sense of humor and fun side came naturally.
Not only did Carmella go through the 2nd World War in Malta, the little British island the Germans relentlessly bombed into ruins while the people hid underground in tunnels of stone with little food or drink for endless days, but she almost lost her husband, a Gunner, due to an accident during this war.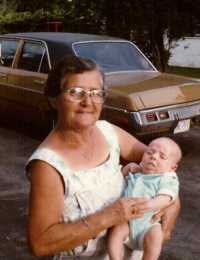 She was pregnant with one of her sons and responsible for 2 more young sons during this horrendous time in her life. Through the grace of God her family survived.
In 1946, when given the choice to move the family to either Australia or Canada they chose the latter and her husband went ahead to find a job and home leaving her with 5 young children to care for (with the help of her siblings). Two years later she bravely boarded the ship, Saturnia, for the first long journey of her life to reunite with her husband.
She LOVED Canada!!! That is once she got over the shock of the cold winters and SO MUCH snow. Her first words to her husband being, "Where have you brought us?"
Unlike many immigrants who stick to their fellow countrymen preferring to stay where they are comfortable speaking their own language, Carmella and her husband chose to learn English, to the best of their abilities, at a time when English as a Second Language classes hadn't even been conceived yet.
Was it perfect English? Well, no…There were many times when she would send her children to the bakery or store for "credit cheese" and only through the persistence of the sales person to meet the need of this child to bring home the right item did they find the grated cheese Carmella needed for whatever she was making that day.
One of events that demonstrated the forgiving quality of Carmella and her husband was when the home they moved into was shared by a German family so soon after the war. Instead of showing this family the disdain, hatred or quickly moving out which many faced with the same would have, they first tolerated this co-existence then eventually became friends both families healing in the process. Proving yet again that letting go of past wrongs truly does bring freedom to love our fellow beings. We are all merely human after all.
True to the traditional role of a women in her time Carmella "served" her family constantly. She had many family dinners, cooking up huge quantities of food to feed the crowd that often climbed to 20 plus in numbers. She waited on everyone seldom sitting down herself to enjoy the meal. She would say it was her job and was okay with it however the first opportunity she got to pass on the Christmas Dinner to one of her family members she was more than ready to pass on this "torch". And never picked it up again.
Once when her son-in-law was going in to have surgery on his arm he wanted to visit with Carmella on the way. When asked why he told his wife it was to get the loving hugs and the support he couldn't get from his own parents.
Carmella loved to laugh. Everyone who ever met her remembered her for her laughter. they also remembered that she often knew just what to say to make others feel better. She was an excellent cook who always made more than enough to feed her whole family, forever thankful for the "feasts" that were far and few between when in Malta during the war.
Yes, at 71 years of age Carmella received a horrible diagnosis. She had a brain tumor and was given the choice of having surgery with a high percentage of permanent brain damage or living out the rest of her life with blindness, paralysis and pain. She quickly responded with, "I don't want to be a vegetable so give me the operation". After the surgery she experienced hemorrhaging subsequent operations failed to stop the bleeding. This woman who lived her life serving & entertaining others finally succumbed and found peace.

Recently…one of her daughters received a message from Carmella via a medium meant for the whole family. The message was, "It was the right decision."
One of her sons has now joined her and we can find comfort in knowing that if she made the right decision…so did he.
We love you and miss you everyday MOM!
Contributed by Children & Grandchildren via Carolyn Shannon