Barbara Charline Jordan
In her short 50 years on earth,
Barbara Jordan
was a pioneer in more than one way.
Not only was she the first southern black female to be elected into the U.S. House of Reps, she was the first known lesbian elected to the United States Congress (though this was not known to the public during her tenure), and the first African-American woman to deliver a keynote address at a Democratic National Convention. WOW… WOW… WOW!

Her "Domestic" partner of approximately thirty years was Nancy Earl, an educational psychologist, she met on a camping trip in the late 1960s and later became her caregiver when Barbara began to suffer from multiple sclerosis in 1973.

In 1988, Barbara nearly drowned in her backyard swimming pool while performing physical therapy, but she was saved by Nancy who found her floating in the pool and revived her.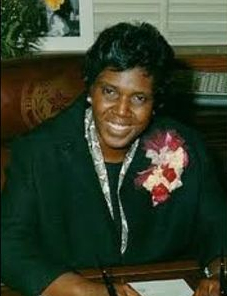 Barbara Charline Jordan was born on Feb. 21, 1936 into the poverty of Houston's Fourth Ward. She attended Houston's segregated public schools and graduated magna cum laude with debating honors from the all-black Texas Southern University. Her father, Benjamin, a Baptist minister, moonlighted as a warehouse clerk to help her pay for college, where her scholarship and assertiveness were honed.

"We were poor," Ms. Jordan said of her strict but loving upbringing. "But so was everyone around us, so we did not notice it."
When Barbara was 11, she quit her piano lessons -- a defiant act that angered her father. He told her that the only good jobs for black women were in teaching music or in performing, and asked her what she intended to do if she could not play the piano. "I don't know," she recalled telling him, "but I'll manage somehow."
"I never wanted to be run of the mill," she told Molly Ivins, the Texas writer who was a friend since 1969 and likened interviewing Ms. Jordan to "a bit like grilling God" because of the care, scholarship and booming authority of her speech.
"I felt somehow for many years that George Washington and Alexander Hamilton just left me out by mistake," she declared, catching the nation's attention with measured, sepulchral oratory from her seat on the House Judiciary Committee. "But through the process of amendment, interpretation and court decision I have finally been included in 'We, the people.'
As a model of the Democratic politician from the New South, Ms. Jordan was less an angry or confrontational liberal than an imposing master of the process and its details. A consummate politician from her earliest days in the Texas Legislature, Ms. Jordan won a seat on the House Judiciary Committee though only a freshman by importuning her political mentor and friend, former President Lyndon B. Johnson, to pull some strings.
"She proved that black is beautiful before we knew what it meant," Mr. Johnson said of her. His widow, Lady Bird Johnson, led Texans in mourning their native daughter. "I feel a stabbing sense of loss at the passing of a good friend," Mrs. Johnson said today.
Her political prowess saw her ascend to the post of Speaker pro tem in the Texas Senate six years after having arrived there as a political oddity and an outcast.
Barbara, who had suffered from multiple sclerosis since 1973, was wheelchair-bound by the time she was invited to give her second Democratic convention keynote address in 1992. Until her death she remained private about her illnesses, which finally included diabetes and cancer.

Afflicted with multiple sclerosis, Barbara died from viral pneumonia as a complication of leukemia, according to officials of the University of Texas in Austin, where she taught.
Read More of Barbara's AMAZING Accomplishments in a Tribute By FRANCIS X. CLINES, NY Times
Support the Barbara Jordan Freedom Foundation

A Life of Recognitions:
1984: Inducted into the Texas Women's Hall of Fame.
1990: Inducted into the National Women's Hall of Fame
1992: The Spingarn Medal from the NAACP.
1993: The Elizabeth Blackwell Award from Hobart and William Smith Colleges.
1994: The Presidential Medal of Freedom.
1995: The second ever female awardee of the United States Military Academy's Sylvanus Thayer Award.
Foundation supplied photo