Billie (Eleanora Fagan) Holliday
When I was a teenager the description of Billie Holiday from any adults around me was always, "She was a drug addict!"
It was never expanded on in fact that was pretty much the end of the conversation. I never heard about how talented she was and or heard any clips of her songs. Anything I ever saw or heard reflected her affliction far more than her AMAZING voice and song choices... even at the risk of her freedom.
Needless to say… When I heard about her biographic book followed by the movie, The Lady Sings the Blues, I almost didn't watch it or read about her because…who wants to watch another person's decent into their self undoing. But something said I needed to, and I learned a lot about this strongly convicted (yes in both the intellect and physical sense) woman.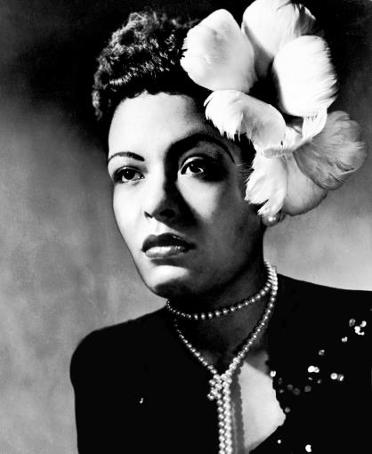 I was so happy I gave her a second look due to the new movie,
The United States of America VS Billie Holiday
. It gave me a whole new perspective on her.
Yes, she did have an addiction as do many who have had lives filled with both physical and sexual abuse
. However, she also had to deal with racism, being a woman in a man's world and there were no unjudgemental counsellors at that time. Addictions weren't considered a disease in her life time... just a weakness that so many of our parents, male and female, were encouraged to have in that era.
She lived in a time when white supremists were lynching blacks and leaving them beaten for the birds to feed on whether dead or alive. It makes your skin crawl yet is an important part of history and understanding why in some states freedom from slavery was still filled with fear.
In 1939, after singing her song "
Strange Fruit
," she received a warning from the Federal Bureau of Narcotics, a government agency which lasted from 1930 to 1968, to never sing the song again. Billie refused and kept singing the song. And when she insisted on continuing her right as an American citizen to do so FBN Commissioner Anslinger, a widely known racist, made it his mission to take her down for her drug and alcohol addiction and relentlessly pursued her all the way up until her death in 1959.
Strange Fruit Song Sung by Billie Holliday
Southern trees bear a strange fruit
Blood on the leaves and blood at the root
Black bodies swingin' in the Southern breeze
Strange fruit hangin' from the poplar trees
Pastoral scene of the gallant South
The bulgin' eyes and the twisted mouth
Scent of magnolias sweet and fresh
Then the sudden smell of burnin' flesh
Here is a fruit for the crows to pluck
For the rain to gather
For the wind to suck
For the sun to rot
For the tree to drop
Here is a strange and bitter crop
Songwriters: Lewis Allan

Despite her personal problems, Billie remained a major star in the jazz world. She appeared with her idol Louis Armstrong in the 1947 film New Orleans, albeit playing the role of a maid.
Unfortunately, her drug use caused her a great professional setback that same year. She was arrested and convicted for narcotics possession in 1947. Sentenced to one year and a day of jail time, she went to a federal rehabilitation facility in Alderson, West Virginia.
Released the following year, Billie faced new challenges. Because of her conviction, she was unable to get the necessary license to play in cabarets and clubs. However, she could still perform at concert halls and had a sold-out show at the Carnegie Hall not long after her release.
While her hard living was taking a toll on her voice, She continued to tour and record in the 1950s. She began recording for Norman Granz, the owner of several small jazz labels, in 1952. Two years later, she had a hugely successful tour of Europe.
Billie also caught the public's attention by sharing her life story with the world in 1956. Her autobiography,
Lady Sings the Blues
(1956), was written in collaboration by William Dufty. Some of the material in the book, however, must be taken with a grain of salt. She was in rough shape when she worked with him on the project, and she claimed to have never read the book after it was finished.
Despite all of the trouble she had been experiencing with her voice, she managed to give an impressive performance on the television broadcast The Sound of Jazz with Ben Webster, Lester Young and Coleman Hawkins.
Billie gave her final performance in New York City on May 25, 1959.
Considered one of the best jazz vocalists of all time, Billie has been an influence on many other performers who have followed in her footsteps.
In 2000, she was inducted into the Rock and Roll Hall of Fame with Ross handling the honors.
While her addictions caused her to do and say some things that didn't work in her favour, s
he did her best to raise awareness for the horrific lynchings that were a part of the newfound "freedom" people of colour were experiencing. It scares and angers many that there is still no law against it in the USA today. There have been lynchings of Mexicans as well and as recently as January 6, 2021... almost of Vice President Pence and Speaker of the House Nancy Pelosi. Thankfully they were hidden from those who would have done them harm by the Capital Police.
for that we THANK YOU Billie and celebrate YOU. The best gift we could give you would be the passing of NO Lynching Legislator once and for ALL!
Compiled and contributed by Fan Carolyn Shannon
Thank YOU to Our WOW Gal Angel Sponsor whose mission is connect people to their Guardian Angels in visible, colourful, reflections that are alive