Beverly Anne Haskins
Bev Haskins, as I knew her, was a woman whose smiling eyes could light up a room. That was my very first impression of her and it never changed.
The very last time I saw Bev was a little over a year before she died. I stopped in on my way to Grimsby during one of the worst snow storms we had that winter. Pile ups of cars and trucks filled the QEW and the stress was high with so many vehicles still speeding in spite of the conditions that I got off onto the service road 2 exits early. There I could go slower and maintain decent car lengths for stopping.

Her road, barely plowed, was a challenge yet once I arrived the sparkle in her eyes took away all my stress. Even though she had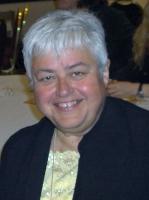 lost a lot of weight and was hooked up to an oxygen tank in order to breath, she still had a smile on her face. I remember thinking, "She IS AMAZING!"

And though our visit was very short and I sensed that she was on her way "home" I left with a peacefulness that I feel kept me safe in spite of more than a few close calls on the rest of the trip.
While I had always felt as if I knew Bev it wasn't until I read her obit that I realized we had both retired from the same District School Board and may have crossed paths there as well.
In fact… Bev had 35 years of experience as an elementary school teacher, arts consultant and principal. She had a degree in Drama in Education and spent many years of her career teaching, directing and creating drama presentations. In 2003 after her retirement from teaching, Bev had a founding role helping to develop the annual Rotary Club of Lincoln Lamplighter Tour.
She was Artistic Director until 2012 when illness forced her to resign.
A deeply spiritual person, Bev founded Lakeside Retreats, a centre that fostered personal growth and meaningful conversation. It was here that I took a few of the workshops she offered, picked up a few personal growth tools and enjoyed the view of the lake.
Bev was a wonderful mother, friend, mentor and soulmate to so many people. While our time together was always brief… her smiling eyes, amazing aura and the loving energy of her warm hugs would last days. YOU were an earth angel Bev and I have no doubt that I will see you again.
Contributed by Acquaintance & Fan, Carolyn Shannon