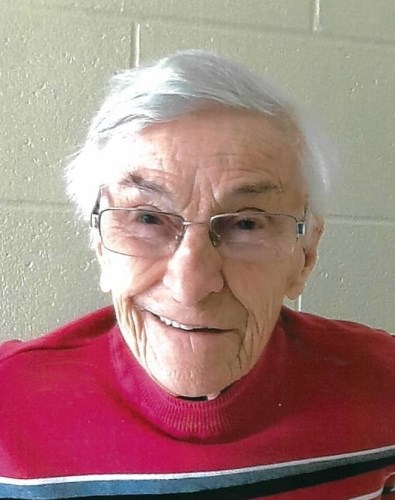 Almost up to her 91st birthday the residents of Brighton Ontario would see this AMAZING woman walking the streets and stopping to pick up garbage to keep her town beautiful. In her later years she attached a garbage bag to her walker and off she would go.
While living in Kingston, Ontario I had seen an older man doing the same and when he passed the work he had done in the wee hours of the morning was missed big time as garbage started to pile up downtown.
I first saw Alison on a visit to my sister while we were eating at Vito's restaurant. She had stopped in for lunch, then off she went again. My sister then filled me in on just how Amazing she was and that she had received the Citizen of the Year honour as well. I was so happy to know that there was someone who cared so much for my hometown.
So many no longer respect the property of others or give any thought / consideration for the person who has to pick up their tossed out garbage. We all need a little Alice in us. She is gone so will you honour her, yourself and others by paying it forward as she did?
Here is an excerpt from an article about Alice in the Brighton Independent: "It was seeing her every day, that gave me my idea of starting a weekly column called Brighton's Own in the Independent, in celebration of interesting local citizens. In truth, she was the first person I asked to do an interview, and her answer surprised me. "

"She said no. She said she was not interesting enough. I disagreed but had to respect her decision. It was not soon after that the then Mayor Mark Walas informed me, she was all too modest for any limelight on her devotion to keep Brighton clean. She not only refused a new walker from the town, but also did not show up to accept her Citizen of the Year Award in 2002. That was Alice."
"The other day, as I took my daily walk down Cedar Street from my home, along the three kilometre stretch to downtown Brighton, I noticed a new bench had been installed, facing a green field. The plaque read:
In memory of Alice Richardson
"I cried because this was a quiet person whose modesty and actions we could all afford to remember. So, in writing this tribute, I finally did get my article done on Alice, an exemplary human being.
"Ever loved, rest peacefully, Alice. You will not be forgotten." Vic Schukov, Brighton Independent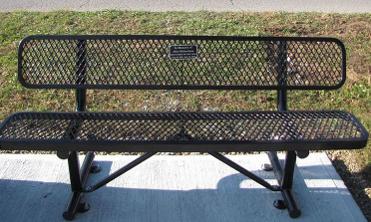 When my sister, Pat, first sent me Alice's Obituary, I wanted to feature her as a WOW Gal Angel but had already filled the monthly spots that year. Then I lost track of it until now. It FELT like the perfect time.
Before I found the article in the Brighton Independent, I felt I needed to reach out to Brighton residents on Facebook to see if I could find out how she personally touched the lives of those who viewed her firsthand. They didn't let Alice down:
"Alice was my Mother and we miss her so much. She was a person who had to keep busy. Her choice to keep Brighton clean was a benefit to us all. I think of her every time I see garbage on the street. Shake my head and say to myself it would not be there if she was here." Lynne Simpson, Daughter
"I fondly remember my weekends spent with my grandparents in Brighton, helping them with their chores in the apartment buildings. And walking up to Vito's for breakfast." Cathy Orr, Grandaughter

"Grandma was a heartwarming, hardworking, small-town woman. She loved her family and enjoyed her community. Grandma would always be around with a smile for all and a kind word too. Her walks around Brighton made her well known to all. Her love of animals (specifically horses and dogs) would be heard in her stories from her childhood and years on the farms."
"Grandma loved music: from fiddles at a barn dance (dancing was also a passion for her), to violins leading orchestras with 'Blue Danube.' Grandma loved her family so much, she just hated that I left home for school and then went overseas for a couple of years...and upon my return, ended up a LOOOOONNNNNGGGGGG 3 hours away from her."
"I am still to this day surprised she didn't set out one day and walk her way to the capital just to surprise me and offer one of her famous hugs. In her later years she became particularly fond of smiley face stickers, they could be found on all of her cards and letters. Oh, how I miss her. Love you so much Namma!" Cara Simpson, Grandaughter
"My great grandma was such a strong woman right until the end. When I visited her at Maplewood, I took her on walks up and down the halls in her wheelchair. After about two laps, grandma would say, 'ok now it's my turn to push you' obviously I didn't let that happen, but she spent years pushing me around in a stroller, we'd come full circle." Kyle Simpson, Great Grandson
"Alice was a special lady. She was so kind and always had a hello and a big smile for everyone she saw. She walked daily and kept Brighton litter free on her routes. She is missed." Kim R

"This picture made me smile. I had the pleasure of having many conversations with Alice when she was with us at Maplewood. Her compassion humor and bright smile helped many residents and staff on off days. She is missed. What an absolute wonderful choice." Linda J

"I used to see her picking up garbage on Prince Edward Street." Cathy LB
"Great choice! I volunteered in our local nursing home where Alice resided for her last year. She was like a little angel with her diminutive stature and constant smile as she walked the hallway and always spoke softly to all." Sandra B
"Alice was so kind to all. She would be out everyday picking up garbage along her route. I am sure this gave her great pleasure knowing she was doing something for her town. She is missed." Cathy M

"Alice was a friendly soul, happy to talk to everyone." Dawn M
"I remember having Alice arrive as a volunteer supervisor with a class trip at the Outdoor Ed Centre and thinking at first 'I may have to change my plan for the day'. I am pretty sure that Alice actually kept us at a strong pace that day." Lee Ann H
"I still find myself keeping an eye out for Alice whilst driving up Prince Edward St, such a lovely lady she was." Liz F

"Always a smile on her face and a pleasant greeting. Her joy was contagious. If you walked up Prince Edward street south of the tracks you were guaranteed a cheerful hello and a beautiful smile that would make your bad day good again and your good day even better! She would always wave to my babies...I wish she could see how big they've gotten." Dawn C
"Beautiful lady always smiling and very helpful. Met Alice at computer class." Sheila SM
"Such a gentle soul. Alice could be found everyday in all types of weather strolling along the streets with a smile on her face collecting litter. Never ever would you hear a negative word or a complaint, she was always friendly, and good for a quick chat, a friendly wave and a 'have a good day'. I grew up here in Brighton, I often came across Alice on my walks home. She was always so kind to us children always relaying positive vibes about us back to our parents." Jennifer K
"I remember her! I admired her." Lisa C-S
"I had seen Alice hard at work on a many occasions cleaning as she walked along prince Edward.. I finally ran into her at Sobeys once and got in line behind her to buy her chicken and noodle take away as a way to say thank you. The way her face lit up made my day. She was humble when I told her why and shook her head no no no but the lady at the register quickly took my cash and finished the transaction. She accepted and thanked me and went on her way.. whenever I saw her after that I got a big smile and grin. She was a Gem." Samantha

"She was amazing, even when it was cold out, and we were wining about the weather, she was out picking up garbage." Karen G
"Oh my, we did not know her personally, but seen her everyday strolling along with her walker and keeping her path to wherever she was going that day garbage free. What an amazing lady. She sure is missed." Joanne M-M
"Alice was one of a kind Always willing to lend a hand Beautiful lady." Carolyn D

"Very glad she was recognized as Citizen of the Year. Her bench is along the route she took numerous times a day. In one of our conversations, she said that her doctor told her to walk, that it would be good for her health. Walk she did. And so much more. So missed now on my daily walks." Ann F
"Always a friendly smile.. I remember her well. She walked every day." Ingrid K
"Alice was an amazing neighbor, friend, citizen and woman. She was always a pleasure to visit with. I miss my personal flyer deliver to the door when she would pick them up at the end of the driveway while going by and bring them to the door. It is nice to see the memorial bench on Prince Edward Street honoring such a lovely person. We can rest assured that Heaven is litter free!" Sandra S

"I have known Alice since she was still with her husband superintendent of the apartments by the united church. And always was friendly and ready for a chat." Gerda L
"Still remember her smile, so contagious! Such a kind hearted woman. Should get the community and schools to participate in an annual Alice style street clean up." Ashley McG
"Alice was a gem. I would see her walking around Brighton. I miss her sooooo much. Even her age did not stop her. Sending love from us Renaud's as you miss her too." Teresa R-G
"I loved bumping into Alice on my walks, she was truly a treasure!" Susan V

"As she had passed on I for many moons would still look for her going along her merry way doing what we all should have been doing. She was a treasured lady and missed my many." Darylle G
"Alice walked by my office everyday....never without knocking on the window to wave or bring the flyer in to Angela Flindall to be hand delivered to her desk with her big infectious smile, sometimes stay for a short visit and always picked the deadheads off my flowers in the flower box out front. She was a special soul." Cheryl B

"She was such a sweet person. Always had a smile for everyone." Mary-Ellen F

"Alice was a lovely lady. We didn't know her personally but she put a smile on your face every time she was strolling around town. She spoke to anyone and gave a smile to everyone she encountered. I miss seeing her walking the streets with her walker. Wonderful choice!" Winnie A V

"Wow look at the comments! Obviously she was a well loved well respected person in Brighton! I lived across the street from her for a few years and for many years after would see her walk uptown sometimes multiple times in a day and no matter the weather....if she could push her walker, she was out there! Miss seeing her and so happy to see her being recognized for what she was, we need more people like her." Lisa PD

"I can remember walking to and from town along Prince Edward St. I often saw Alice picking up trash along both sides of the street. God bless her! EARTH ANGELS DO EXIST!" Maggie B

"She was Brighton's Special Angel..." Sandra N J

What more can I say about Alice that her many fans haven't? As the old adage goes... "life is truly measured by how much a person loves and is loved." Even those who never had the luxury of knowing Alice personally felt LOVE for her and felt LOVED by her... just from her smile.
I truly wish I had been able to know Alice Richardson personally. I thank all who contributed in helping me get to know her better through their memories of this woman who took such pride in her town and always had time to share a smile, a kind word even while staying on task in fulfilling her self-chosen mission. (I apologize if I have missed anyone who took the time to honour Alice... Her family will have this forever and keep them coming on Facebook, it does all of our hearts good!)
A True Brighton Icon for sure. Alice Vivian Richardson 2012 CITIZEN OF THE YEAR Aug. 31, 1928 – Feb.10, 2020
Compiled by Fan Carolyn Shannon & Contributed by Brighton Residents, Family & Fans