Alice Kuhn Ladas was a remarkable woman who dedicated her life to the study of human sexuality and psychotherapy.
She was one of the co-authors of the groundbreaking book The G Spot and Other Discoveries About Human Sexuality. This book proved to challenge the conventional views on female orgasm and sexual pleasure.
She was also a pioneer in the field of bioenergetic analysis, a form of body-oriented psychotherapy that integrates physical and emotional aspects of healing.
Alice was a passionate advocate for women's rights, sexual freedom, and social justice.
She was an inspiration to many people who knew her personally or through her work. She had a vibrant personality, a curious mind, and a generous heart.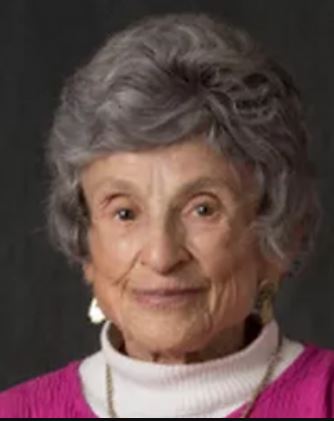 A trailblazer in body psychotherapy, Lamaze childbirth, breastfeeding and women's sexuality, Alice never hesitated to push boundaries. At 101, she was a somatic psychologist in New Mexico still passionate about her work and family.
Alice's attributes her groundbreaking career to an unusual upbringing. Moving between divorced parents in New York and Alabama gave her a broad view of American life. "I had intercultural experiences few kids have," she explained. "I think that led me to not fully accept the cultures I lived in and to be a pioneer." She also attended the Ethical Culture School, which taught that the purpose of education is to make the world a better place.
Alice attended Smith College, majoring in political science. Her B.A. thesis was titled, "Towards a Better Presidential System" and she graduated cum laude and Phi Beta Kappa. During college, she had the life-changing experience of getting to know Eleanor Roosevelt while participating in a student leadership program at the Roosevelts' Campobello Island home in New Brunswick, Canada.
Her first job was with the Fair Employment Practices Commission, where she was successful in upgrading the positions of Black workers at the Patent Office. After hearing Frieda Fromm-Reichman lecture at the Washington School of Psychiatry, For further training, she returned to Smith to attend the School for Social Work. During her internship placement at the Jewish Board of Guardians, she met family therapy pioneer Nathan Ackerman, who hired her once she completed her degree.
Disenchanted with traditional talk therapy, Alice was drawn to the work of Wilhelm Reich, and how he incorporated the body into psychotherapy. She joined the staff at Reich's Infant Research Center, and in 1956 helped Reich's student Alexander Lowen incorporate the Institute for Bioenergetic Analysis.
Dr. Alice Ladas is one of the unsung heroes of women's liberation. She has always been dedicated to spreading the word about what she believes to be true, a pioneer in both sexology and body psychotherapy.

She met, studied, and trained with some of the leading professionals in both fields. She struggled to fight biases against her work in Sexology, prejudice against people's ideas that women should not be independent or successful, and resistance to her involvement with Body Psychotherapy and Bioenergetic Analysis.
Her initial training was Neo-Freudian at the Washington Square School of Psychiatry. She got her MSW from The Smith School of Social Work, which she claims was quite orthodox Freudian. After receiving her MSW, she worked at The Jewish Board of Guardians and The Payne Whitney Clinic, as well as in the private office of Nathan Ackerman, M.D., at the time that he was developing Family Therapy.

She also was one of a select few to be invited to the first presentation by Alfred C. Kinsey (the renowned researcher and co-author of Sexual Behavior in the Human Male and Sexual Behavior in the Human Female) at the New York Academy of Medicine in New York City.
Dissatisfied with the results of traditional talk therapy, both for herself and for her clients, Alice was attracted to the work of Wilhelm Reich because of its attention to the body and positive regard for human sexuality.
At an early SSSS conference, she was among the first group of people to watch, behind locked doors, the earliest movies about the work of William Masters and Virginia Johnson.
In the 1980s, Charles Kelley, founder of the Radix Institute, and Alice studied together with Hartman and Fithian, cosex therapists, who probably had trained with Masters and Johnson. Somewhere along the way, she also took Betty Dodson's workshop designed to assist women to better understand their own bodies through self-pleasuring. (www.usabp.org 10 USABPJ Vol. 7, No. 2, 2008)
In the early 1980s, Alice and her husband, Harold Ladas, collaborated with Beverly Whipple and John Perry on the groundbreaking book The G Spot and Other Discoveries About Human Sexuality. Published in 1982, it became an international bestseller.

When it was originally published in 1982, The G Spot was the first book to prove the existence and define the location of the Gräfenberg spot, a patch of erectile tissue that can be felt through the front wall of the vagina, directly behind the pubic bone. In print continuously for twenty-two years, it has sold more than 1,000,000 copies to date international.
This first-ever trade paperback edition includes a new introduction by Dr. Hilda Hutcherson, author of What Your Mother Never Told Your about S-E-X , which brings the research in the book up-to-date and explains its continued relevance.
Now a new generation of men and women can take advantage of the insights and practical suggestions of this classic work.
How is it that it took so long for the G-Spot to be scientifically identified? Perhaps because there's no money in it for the man? But wait, perhaps the man is realizing that his well being depends upon the well being of his woman counterpart, and there is multiple rewards involved in living a more satisfying life.

This book is a very straight forward read, informative, insightful, and definitely worth your time. Man or woman, everyone should know more about the human body... and the SIMILARITIES between the two sexes are a lesson in themselves. The G-Spot is the equivalent of the male prostate, and along with deep vascular congestion, the nature of the clitoris, and even female ejaculation, the similarities are truly astounding, yet for some reason, this information resonates as confirmation rather than shock.
We love to talk about male and female differences, men are from Mars and women are from Venus, but true woman's liberation should be talking about how we are the same... polar variations of the human being, from Earth, no ribs involved. This book was a long time coming, but the information was well worth the wait. Amazon Review on The G Spot Book Verified Purchase (Male)
Since her ground-breaking, best-selling book, The G Spot, in the1980s, she continued to write numerous articles, including some recent ones for Cliniscope, The American Academy of Clinical Sexologists, and The Archives of Medical Research.
Alice died at the age of 102 which speaks well for her desire to stay active on a daily basis. Many a woman and man... including myself am grateful for her and her co-writers for opening our eyes to looking at sexuality from a new different view.
Compiled & Contributed by Fan Carolyn Shannon

Thank YOU to Our WOW Gal Angel Sponsor whose mission is connect people to their Guardian Angels in visible, colourful, reflections that are alive