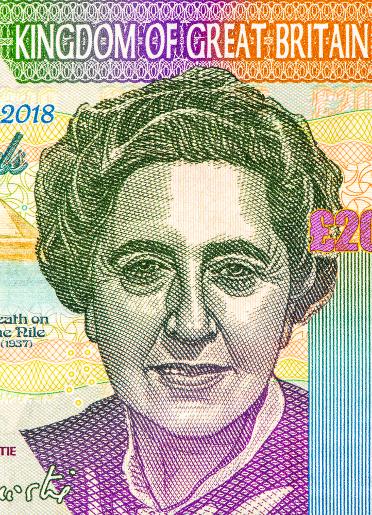 Dame Agatha Christie

or Lady Mallowan
Either way... Who doesn't love Agatha & her trove of gifts she has given to us over the years? And keeps on giving still today with new versions of her works.
I chose this photo of her because this is how I see her: a woman who has brought us so much beauty and colour she is a very valuable currency for us all.
Some background into her human side for you:
Born into an affluent English family in 1890, Agatha Miller was a precocious child who taught herself to read at age four and quickly developed what would be a lifelong devotion to books.
At age 22 she met Archie Christie, a dashing young pilot. The couple fell in love and were married on Christmas Eve in 1914.
They spent most of the next four years separated by World War I, settling afterwards in London. Their only child, Rosalind, was born in 1919. By the time her marriage to Archie fell apart, Agatha had published
five well-received detective novels, but she could hardly have expected the success that awaited her.
Deeply hurt by the death of her mother, thirty-five-year-old Agatha Christie was still trying to overcome her grief when her husband of twelve years suddenly announced that he was in love with another woman and wanted a divorce.

The twin shocks threw Agatha into a deep state of depression. Feeling that the best of life was behind her, she saw little reason to go on living. Only concern for her seven-year-old daughter saved her from suicide.
In time Agatha began to recover from the pain of her failed marriage. She resumed writing and, to boost her spirits, took a trip on the Orient Express. Then, in 1930 a friend invited her to come along on a trip to an archeological dig in Iraq. There she met Max Mallowan, a prominent archeologist thirteen years her junior. They fell in love and were married later that year, a happy marriage that would last until Agatha's death 46 years later.
At the end of 1926, Agatha may have thought that her life was no longer worth living, but she was entirely wrong about that. In the years that followed she not only found the love of her life, but she also enjoyed her greatest success, becoming the best-loved author on earth, with over 70 best-selling novels as well as the longest-running play in history. Her husband Max was knighted in 1968 and three years later Agatha was made a Dame of the British Empire.
Agatha Mary Clarissa Miller Christie Mallowan died at age 85 on January 12, 1976, forty-six years ago today. With over two billion copies sold, she is the best-selling novelist in history. Her memory lives on even today in film versions being introduced to new and old audiences though streaming and public TV avenues. She has even been brought to life herself in a series of films about her life and adventures including her short disappearance from public life in 1926. All of which I continue to enjoy with each viewing.
Thank you, Agatha, for so many opportunities to escape into a world of intrigue, mystery and beauty. It is a gift that truly keeps on giving.
Contributed by Fan Carolyn Shannon

Thank YOU to Our WOW Gal Angel Sponsor whose mission is connect people to their Guardian Angels in visible, colourful, reflections that are alive